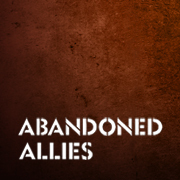 Since I've wrapped post-production on Abandoned Allies I've been getting the question, "What's next?"
It's tough to say right now, but I know I'm supposed to have an answer. There are really fantastic things taking shape. Not all of them are limited by the need to raise funds, but I desperately want to have a budget for my next film. I want to stay focused on producing and directing, which means I need a crew. And while some people are kind enough to work for free (to get experience, exposure, or whatever), I really want to hire people if I can afford it.
So the age-old question remains: how do you raise funds? It's been on my mind the entire time I've worked on Allies. This form of art is expensive, but I think there are some fantastic fundraising options available. I hope people who fund my films will trust me enough–no matter what subject I pick–to tell interesting stories the best I can.
What I'd like to do is find someone great at building relationships to help with development. This is a very specific position that requires a lot of tact, intelligence, and charm. I need a guy or gal to help me keep investors informed so I can stay focused on my role as captain: keeping the ship headed in the right direction and all hands on deck when needed.
In the meantime, I'm filtering through ideas to find one I can marry. The subject of Allies was so interesting and important that it's kept me working for more than four years now. That's a tough thing to find. So I'm building criteria for the next film by asking myself these questions:
Will this subject keep me interested / engaged?
Is it something I can live with for the rest of my life, as part of my portfolio?
Will others will find interesting? Does it have a niche or broad audience appeal?
Do I have access to the resources needed to cover this subject: people, places, things, and money?
Will it be a short or feature-length film?
Right now I know that I want something that feels relatively easy and happy. Allies was a challenge, but in a good way. I want something that feels easy to explore so I can improve my craft as a filmmaker and story teller. It needs to help me maintain the level of energy needed to become a better director and producer.
So, for now, I can't share exactly what's next but I know I'm really looking forward to it.