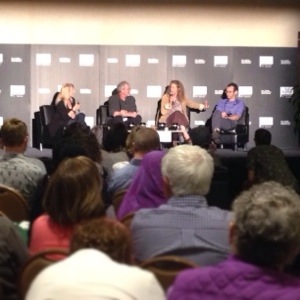 I'm blogging from my phone at the fest. So please forgive any typos and the lack of links and pics. I'll try to remedy that later, mkay?
Yesterday was such an incredible day. I always have trouble summarizing the fest because so much happens. I tend to have a bunch of epiphanies too. How do you summarize all that happens in 24 hours?
I can, however, tell you what films I watched and a few of the conversations that happened in between them. So many great films. Have I mentioned how much I love Full Frame?
My first stop on Day 2 was the Speakeasy. I absolutely love hearing filmmakers talk about their work. I caught the end of the convo. It was painful to miss most of the conversation.
My first film on Day 2 was Afternoon Of A Faun. It's directed by Nancy Buirski and is about a very influential dancer nicknamed Tanny who got polio when she was in the prime of her dance career. She was a fascinating person and the archival footage of her dancing was beautiful. I loved the Q&A afterwards.
While leaving that film, I bumped into a friend. He recommended that I see E-Team if I didn't have plans for the next block of films. I'm so glad he did.
E-Team is about the field teams who investigate crimes against humanity. It's an intimate look inside the lives of these people who fight for justice. The Q&A afterwards was really powerful. I'm so glad I was there for all if that.
After the last screening of my day I walked over to Fullsteam for the filmmaker party. I took pics, tweeted, and shared snippets of the evening. I got to talk to a bunch of filmmakers and festival volunteers. Yeah, pretty much a dream evening for me: film, social media, and local beer. I had to pinch myself a few times.
More to come, y'all. I need to go bathe charge my cell phone. Stay tuned.