The next networking event for film and video makers in the Triangle is right around the corner. Save the date for the TriFilm Society fall social: Thursday, September 28th, 2017.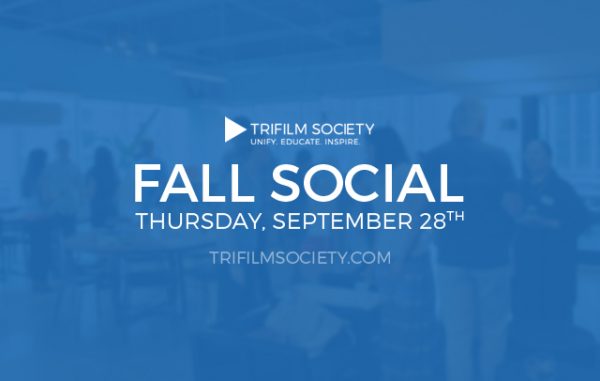 If you're new here, you may not know about the TriFilm Society. This post will fill you in a bit, but use the comments section below if you have any questions. I love talking about it.
What is the TriFilm Society?
TriFilm is an organization I started in 2009.
I wanted a way to support my fellow filmmakers by providing professional networking opportunities.
This was a direct response to making my very first film, Abandoned Allies. So many people were kind to me, and I wanted a way to repay that kindness and pay it forward for others.
Since then, a lot has grown and evolved. I rebranded, moved TriFilm to its own website and social media profiles, and continued growing our reach. We've started new programs and opened membership, too. But there's one thing that hasn't changed: the simple goal of supporting my peers.
Supporting film and video makers in the Triangle area of North Carolina is the main goal. (This also supports the growth of the industry in North Carolina as a whole, which I personally believe is really great for my home state.) It is a great pleasure and honor to collaborate with local organizations that have a vested interest in this goal, too.
Over the years, I've collaborated with organizations – local, national, and international companies – that believe in supporting film and video makers, too. I really enjoy collaboration (one of the main principles of filmmaking), and want to use TriFilm to lead by example.
I'm so grateful to each one of our collaborating organizations.
What are TriFilm socials?
Socials are professional networking opportunities for film and video makers. According to our attendees and members, TriFilm socials are unlike any other events in the area. They happen once per season (or quarter) in the spring, summer, fall, and winter. If you're new to socials, you may find this FAQs page helpful: trifilmsociety.com/socials.
Why share this info here?
Since I blog about filmmaking, a lot of people ask to pick my brain or introduce me to filmmakers. And that's part of the reason the TriFilm Society exists! It's a great way to meet people, share your work, find resources, and get answers to questions.
Go check it out, attend a social, and become a member.
Learn more: trifilmsociety.com.
Questions?
If you have questions about the TriFilm Society, use the comments below to share what's on your mind!