My family and I recently vacationed in Positano, Italy.
I'm a lucky girl because I married into a family that has visited often enough to have friends there. It feels like home and spending time with family. (Derek and I got engaged there years ago, too!)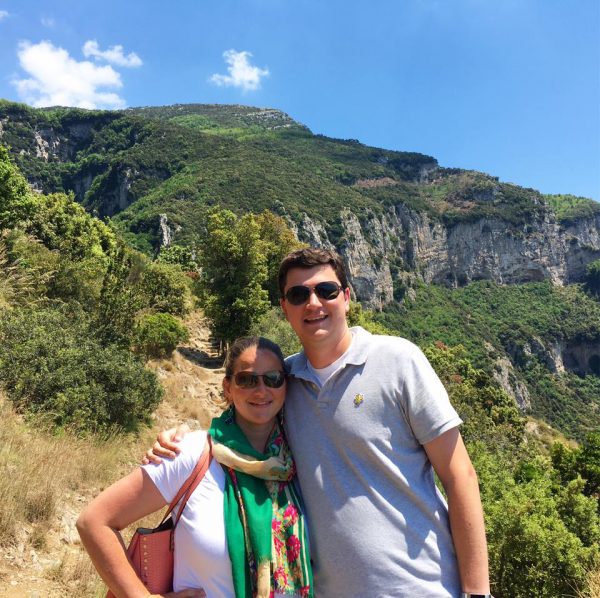 Some of my friends have found out about how much we love Positano and have been asking a lot of questions. Where do you stay? Where should you eat? What should you do while you're there? What are good things to buy in town? It's fun to hear them talk about planning their own Positano vacations!
Sharing recommendations publicly in writing makes it easier to share the info quickly. Plus, a lot of what I found online hasn't entirely reflected my personal experience spending time in Positano. (But that's a longer post for another day.)
I've already shared an introduction to Positano (read it here), discovering local craft beer on the Amalfi Coast (read it here) and where to eat while you're there (read it here).
This post is about what to buy while you're in town.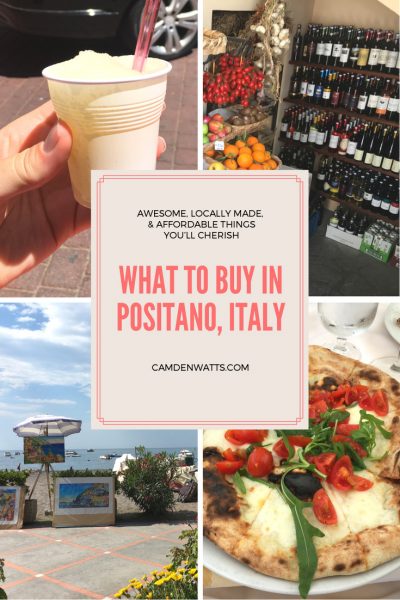 Why these recommendations are biased
There are a lot of things to buy in Positano, Italy.
My recommendations are highly biased, though, especially in terms of supporting the local economy. (My last film, Brewconomy, was about supporting the local economy.) I personally believe in doing your best to keep dollars local, so what you cherish will continue to thrive. To me, a lot of that centers around the people in Positano.
The people that live and work on the Amalfi Coast don't have it easy. It's a tough place to earn a living, often requiring a lot of hard work – much like any tourist town. The high season is really crowed and busy, and the off season is so quiet that only a handful of places are open.
What makes Positano especially fascinating is the geography and its influence on everything. The Amalfi Coast is a mountainous, seaside place. The town is built into the mountains. Ergo, everything is very vertical and more difficult to access. Getting people or things to/from a location takes a lot of effort – no matter how you do it. Whether by boat, vehicles on land, animals, or on foot, it takes so much effort to move things.
That includes people. Since Positano real estate is pricey (it's a tourist town, remember), a lot of people will commute to work in town. That means they may spend an hour on a bike or in a car to go one direction each day. If you do drive into town, parking may be tough to find and/or it'll price you out of a convenient spot. So you'll have to go the rest of the way on foot.
Is it beautiful? Absolutely. But it's a tough place to live and work. I have mad respect for the locals.
What I'm trying to say, really, is there's no Target around the corner for the things on your shopping list. What you will find in Positano are beautiful, hand crafted items made by local artisans. There are inexpensive, mass produced things to buy as well; however, you won't find any recommendations for them in this post.
Without further ado, here are my top five things to buy in Positano!
1. Food
While in Positano, our daily agenda is centered around food.
We joyfully plan dinner while we're eating lunch for several hours. No joke. I wish that were the biggest decision and pace I had every day of my life, haha.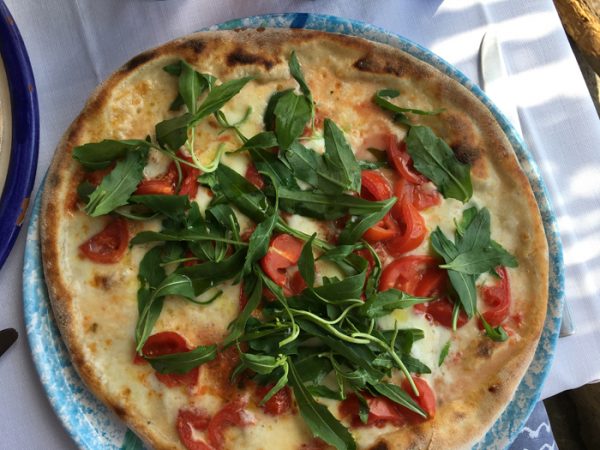 I have a long post here about all of my favorite places to dine, and the dishes I always order at each place. The food in Positano is so delicious. I hope you'll enjoy it as much as we do!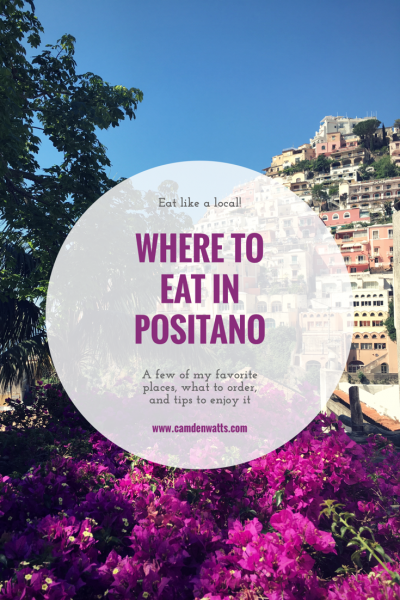 Oh, don't skip out on the lemon granita when you get the chance.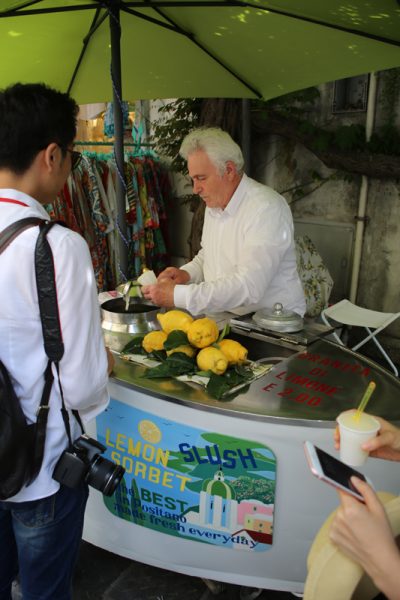 They're typically sold from small carts and run about two euros (as of 2017). It may feel totally touristy, but they're delicious and can quench your thirst on a warm day in Positano. It's a great pick-me-up!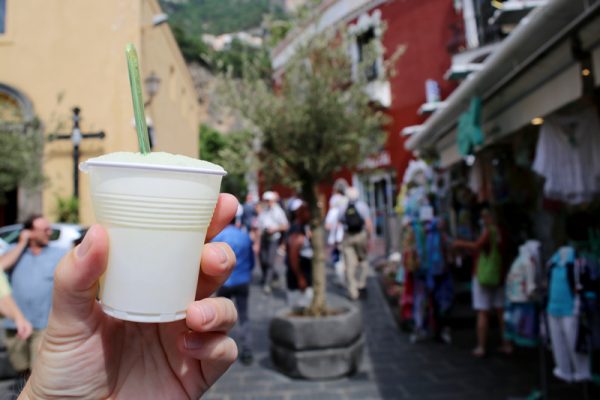 2. Booze
If you're a wine person, you'll love Positano. My father-in-law and husband select the best wines. I am, admittedly, quite spoiled with drinking delicious wines now.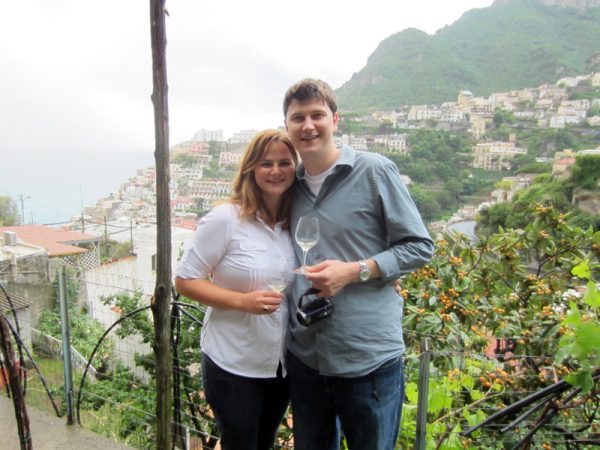 It's worth noting that great wine doesn't always equal great expense. There are really delicious wines for each budget. In fact, I started drinking red wine in Paris because it was less expensive than soda. So, pick your pleasure. If you want to splurge, there are some perfect spots for it in Positano.
We've fallen in love with drinking the light, refreshing white wines made in the area. I love drinking something that's made locally. Plus, these whites pair well with seafood on a sunny day. (Writing this is making me thirsty. I'm pining for that view, daily pace, and excellent company.)
I think most of those Campania region wines are made with native grapes called Falanghina, Grego, and Fiano. Then again, I'm not a sommelier. If you do a little reading on the subject, you'll be in great shape to order something delicious.
One thing you must try is a shot of limoncello (pronounced  lee-mohn-chell-o).
Limoncello is a fun thing to drink after you've finished lunch or dinner. Limoncello is a sweet liquor made from lemons. Perfect for sipping slowly while you wait for the bill.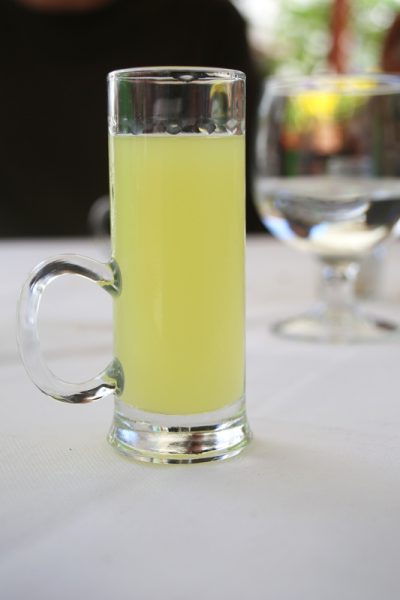 Limoncello is also pretty easy to bring home in a checked bag, if you're looking for a good gift.
3. Art
Art appreciation is alive in Positano.
Locally crafted things like ceramics or paintings are some of my favorite things to buy. Smaller items are pretty easy to bring home, too. If you're buying a whole set of ceramics ask about shipping to the States so you don't have to worry about carrying home heavy, fragile items.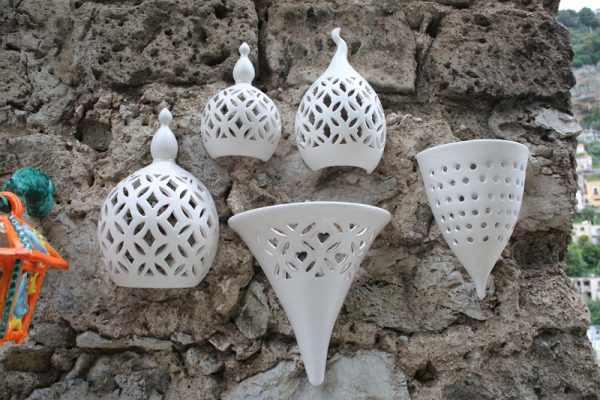 There are plenty of shops in town for any range in price you've got in mind. Don't take photos in these shops, though; many places have strict rules about it. They will fuss at you. (I can't blame them. Positano often gets crowded with people who don't actually buy stuff.)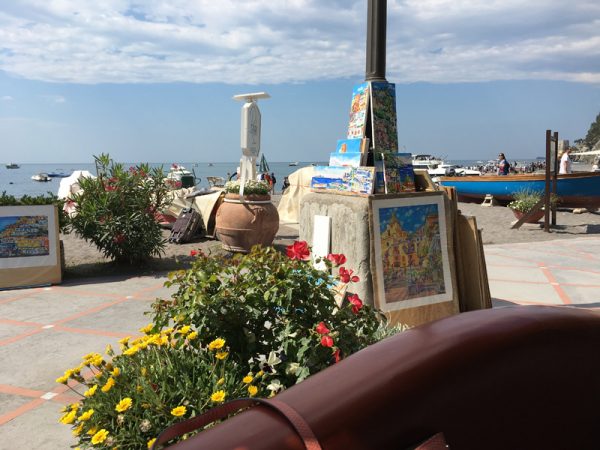 Most pieces will have a mark to show that it's made in Positano. If that mark is missing, you may run the risk of buying something that's mass produced elsewhere. Double-check to make sure it's created locally.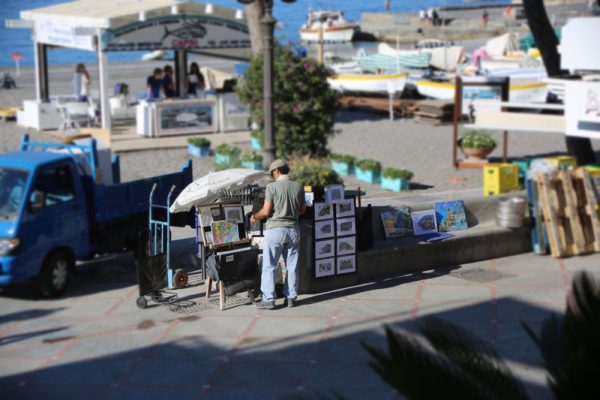 There are artists who work down by the sea, too. I love watching the artists work (probably because my mother is a painter). Look around, chat with the artists, and find something that feels right for you.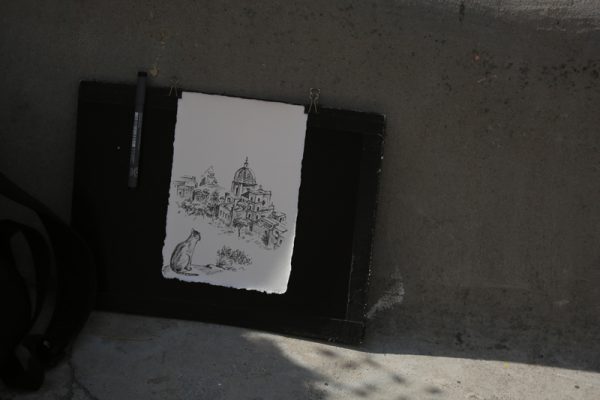 Our home is filled with art and ceramics from Positano, and I cherish each piece.
4. Textiles
Textiles are tough to resist in Positano.
Scarves and linen shirts line the walls of the pathways that lead from the center of town down to the beach. They flow in the wind, calling out to anyone passing by.
Scarves are one of my biggest weaknesses. They're so beautiful and lightweight. Plus, a lot of them are in my favorite seaside colors.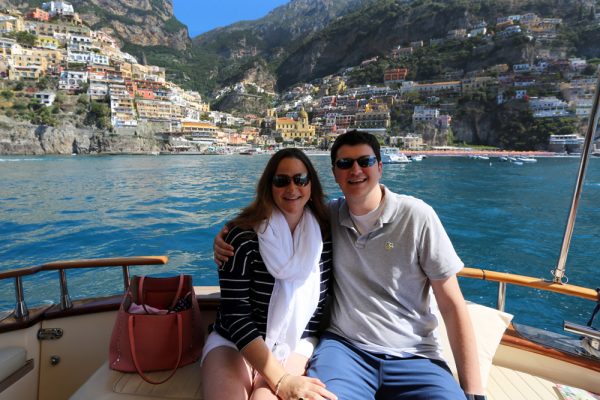 There are a lot of places to buy textiles in Positano, and one of the ones you've got to check out is La Bottega di Brunella. The shop has a bunch of clothing hanging outside. It's all made on looms in Italy. It's a really cool spot. (Yes, I have a scarf from there, too!)
You'll also find awesome linens for your house:  table cloths, placemats, hand-painted aprons, bread bowls, tea towels, etc.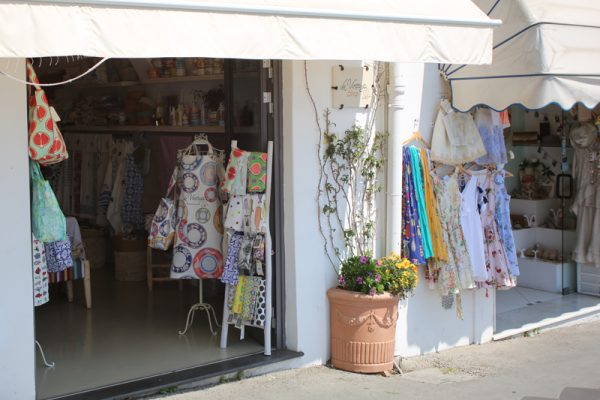 There's a new store (as of 2017) that's part of da Vincenzo where you can find lots of these pretty things, and I highly recommend it. We came home with a bread bowl that makes us smile every time we use it!
5. Shoes
Men's and women's shoes are both good finds in Positano.
There are a lot of different shapes, styles, and materials. You're not at great risk of buying something on vacation, IMHO, and never wearing it once you get home. (I've been so guilty of that in other cities.)
The guys have come home with really stylish, close-toed shoes. Some of my favorite sandals were made in Positano. I wear them constantly in the summer.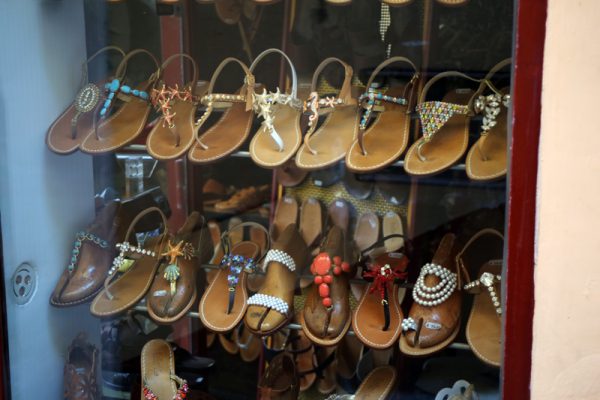 There's one store at the bottom of the stairs near the church (next to Capricci, as of 2017), which you'll pass as you're walking to the beach. I highly recommend this shop. The smell of leather alone is enough to draw you in.
There's a spot for sandals right down the pathway, too. A man sits outside in the corner making the sandals as everyone walks by all day. The display behind him is filled floor to ceiling with sandals, with some lights at the top of the case so you can see them at night.
These two shops I can vouch for – but there are some other awesome ones in town to check out, too!
What do you think?
Have you been to Positano? What are some of your favorite things to buy there?
Are you planning a trip there? Let me know if you have questions about it! It's a beautiful place!
Use the comments to share what's on your mind.