My family and I vacationed in Positano, Italy, in May 2017.
I've already shared an introduction to Positano, discovering local craft beer on the Amalfi Coast, and where to eat while you're there.
Before flying out this year, I spent a lot of time researching tips for packing.
What items do you really need?
How do you prevent overpacking?
Can it all fit in a single carry on?
What am I forgetting or overlooking?
What's changed in overseas flights?
Here's how I packed for Positano.
Thoughts on traveling light
Traveling light is ideal for me.
It seems to make everything so much easier. I'm doing my best to not overpack every time I go on a trip. There's still plenty of room for improvement but this year I did pretty well.
What I've noticed (over a lifetime of traveling) is that having a ton of stuff when you travel means you have to keep up with it – whether that's in the airport, hotel, or en route between destinations. When you travel light, however, you're less worried about the things you're carrying getting lost, stolen, or damaged. Worrying less about your stuff helps you stay more present in the moment, feel more ease, and enjoy the journey a lot more.
Plus, when you get to your room you have to put all of that stuff somewhere. Hotel rooms can feel really cramped with bags and belongings strewn everywhere. (That's one reason I like to unpack immediately, so my clothes are put away in the closet or drawers. Then I can store my suitcase out of sight, instead of digging through it every day. But that's just me.)
Too much stuff can also make it difficult to find what you actually need in a hurry while you're on vacation. Finding things you need easily and quickly means you can spend less time hunting through piles of stuff, and instead get back to enjoying yourself. Vacation time is so precious. I'd rather spend as many moments as possible relaxing!
Sometimes creature comforts are really lovely when you're traveling. But I've personally found that traveling as light as possible makes the journey so much more enjoyable. It's a work in progress for me.
What kind of luggage did I take to Positano?
This year I used a purse, carry-on, and checked bag for the trip.
Eons ago, I bought a backpack for travel. I was always taught to pack only what I can carry. The backpack was really handy in big cities like New York and Chicago; places where you're moving quickly, and don't want wheels on uneven streets or escalators slowing you down. It's an awesome way to travel, and I still dream about skipping around Europe with it.
The backpack didn't feel appropriate for this trip, though.
For this trip, something a little more luxurious felt right.
You may recall (from a recent post about how I fell in love with decluttering) that my husband and I recently got rid of a set of luggage that was about 15 years old. It was so beat up with broken wheels and handles. We were nervous about needing it but, thankfully, we received a beautiful new set of luggage for Christmas! That's what we brought to Positano this year. (Pictured below.)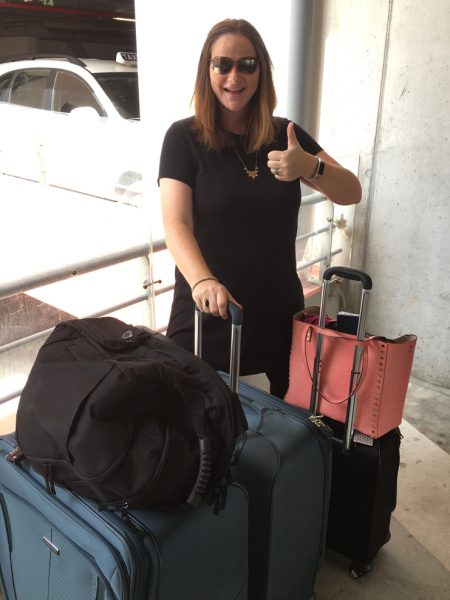 I kept thinking the wheels on our new luggage would be really handy – and they were. We had a few connecting flights and layovers in airports that were new to us, and I didn't want the weight of a big backpack or broken wheels slowing me down. It was so lovely to hands-free when I needed. These bags were really dreamy! I'm so thankful!
Plus, I knew that I'd have some help in carrying luggage during critical moments en route. That eased my worries about needing to be wheels-free in certain locations. While we're on the subject…
Getting around Positano with your luggage
It's tough to carry luggage through Positano for a lot of reasons.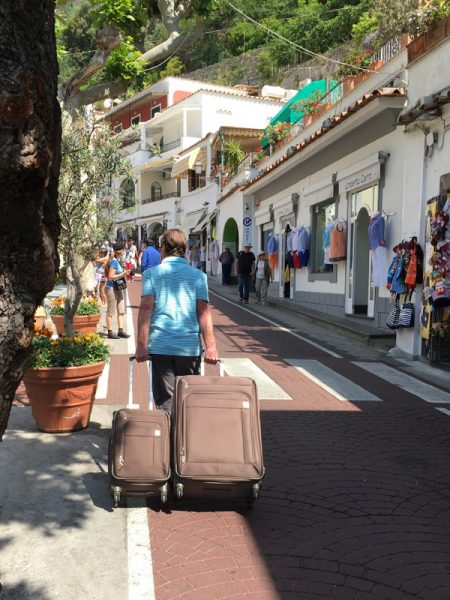 For one, you're typically getting everywhere on foot. This means that if you arrive by ferry and you're staying in the center of town, you've got a long way to go uphill carrying your luggage. Don't do that. Hire a porter to take your stuff to your hotel. It's worth every penny and you'll see why when you arrive.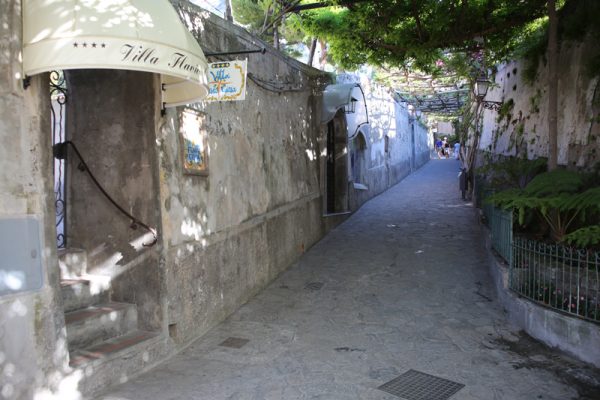 The photo above is one of the main pedestrian pathways in Positano, although you'll rarely see it this empty.
It's a cobblestone pathway that gets packed with tourists. Those tourists often stop out of confusion, photo opps, or window shopping which causes heavy pedestrian traffic jams. It can get pretty maddening, especially if you're carrying your luggage uphill on a hot day. Even if you're in the best physical shape, those inclines don't play.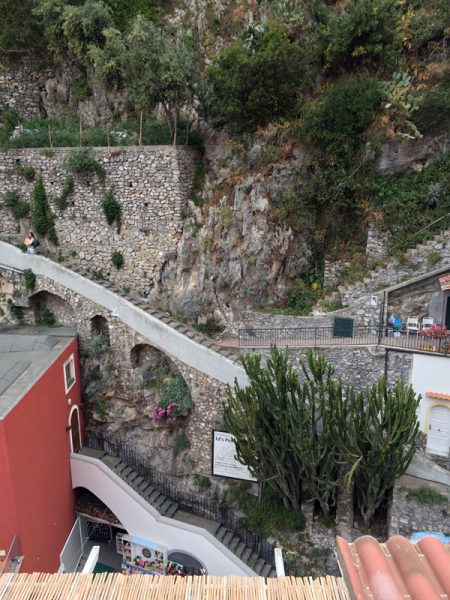 Even if I were carrying my backpack, I feel like it would have been challenging to go uphill through those crowds. Yes, you could do it. But if you're looking for a way to relax while you're there, I'd recommend avoiding that by hiring a porter.
Seriously, hire a porter.
What did I pack in each bag?
Since I was traveling with my husband, we shared carry on luggage.
The carry on bags included my large purse, a small suitcase, and my husband's backpack. Inside the carry on bags were travel documents, passports, valuables, electronics, small toiletries, and some extra clothes. (The extra clothes were in case our checked bags got lost.) We combined things like phone chargers, snacks, and toiletries to keep our luggage lighter.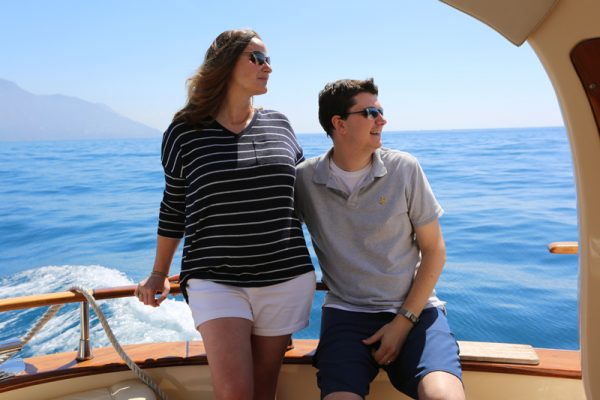 Our bigger suitcases were checked. Inside our checked luggage (two wheeled suitcases) were clothes, shoes, toiletries, and accessories. Although I've heard it's smart to split up your checked baggage contents (in case something gets lost), we risked it and put only our own stuff in each checked bag.
What toiletries did I bring?
I tried not to bring too many toiletries.
Space in a hotel room (or even in a beautiful villa in Positano) is limited, and I didn't want to feel crowded out by the amount of things I'd brought with me. It can make me feel stressed, distracted, or frustrated – not what you want on a vacation. Plus, I tend to overpack and use about half of what I bring anyway.
As the departure date drew near, I strategically started removing things from my bags. Were there any duplicates? Will I actually use this, or could I go without it for 10 days? If I think I need this item, is there any way to make the container or quantity smaller / lighter / more compact?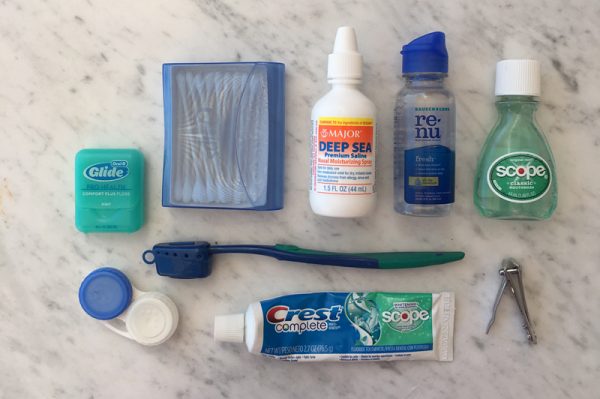 Here's a list of the toiletries I ended up packing:
Shampoo
Conditioner
Shower gel
Deodorant
Bar of soap
Nasal spray
Contact solution
Contacts case
Moisturizer
Body oil
Healing balm
Toothbrush
Toothpaste
Mouthwash
Floss
Q-Tips
Cotton pads
Washcloth
Loofah
Sunscreen
Razor
Tweezers
Nail clippers
Small hair brush
Lip balm
It's funny what you think you'll need, versus what you actually need while you're abroad.
For example, I felt like the washcloth was really excessive but also nice to have while traveling. (There's something comforting about having a clean washcloth you brought from home.) I'm so glad I brought it because the hotel didn't provide washcloths. I wash my face daily and having the washcloth was pretty critical.
Meanwhile, the three types of moisturizer I packed felt totally necessary. Since I only used two of them on a daily basis, I could have ditched the body oil – especially since it gets really messy. Your skin reacts to the changes in climate, water, and activities so it's tough to know what you'll actually want when you arrive.
The same is true for hair. At home, I typically blow dry my hair after a shower, which makes it straight. When I'm traveling (especially overseas), I don't always have the time or patience for the whole routine. Packing a lot of the tools I use in that normal routine (dryer, brushes, product, etc.) can be cumbersome, too. It's much easier to simplify and go with whatever the locale dictates. In Positano, I opted for beach hair most days: air dried and a little wavier.
Bottom line? If you really need toiletries you can always buy something in Positano.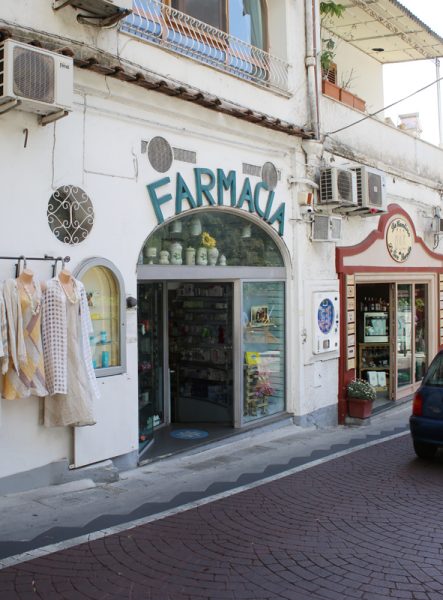 It's a great time to try a new style or product, eh? Stop by the pharmacy in Positano (Farmacia) and you'll probably find what you need while you're there. It's a family-owned business, and they've been very good to us over the years.
What clothes did I bring?
Man, I was worried about the weather this year.
I had just spent time at the beach, where I froze almost the entire time. Shivering all day and night made it really tough to enjoy that trip. So, while packing for Positano, I was really worried about bringing the right clothes.
This meant I checked the weather incessantly before our departure. The funny thing is that the weather reports were hardly accurate. Positano is a vertical place, so the weather near the beach may feel totally different than the weather at the top of the mountain. You'll also feel any temps in between, especially if you're hustling up the stairs or crowded by people on the pathways.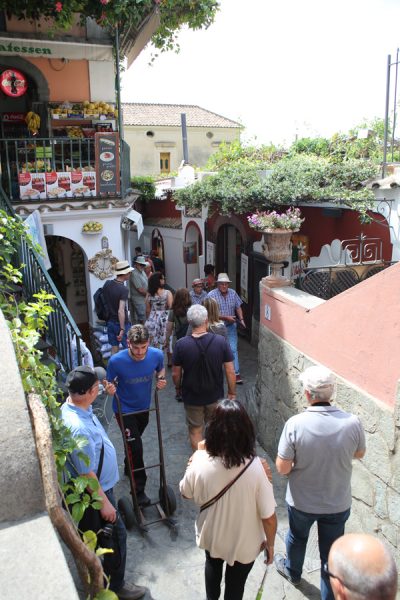 The changes in temp can make it tough, so the key is layering. (True of travel almost anywhere, eh?) I tend to bring a slightly bigger day bag or purse with me. That way I can carry a scarf, jacket, and sandals to adjust to needs throughout the day without having to go back to the room to change. Plus, if you buy something en route you can put that in your day bag easily.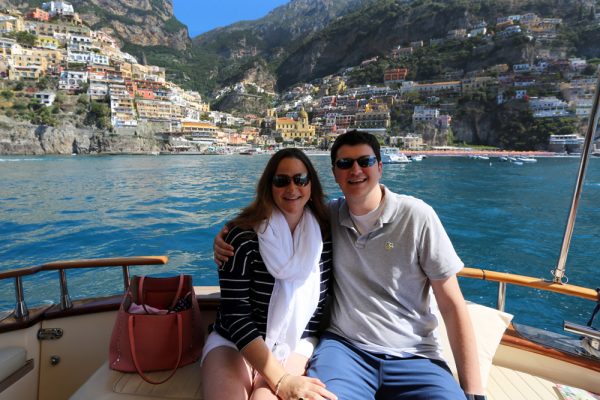 Here's what I packed:
Jacket (x2)
Scarves (x6)
Sweaters (x3)
Pants (x5)
Shorts (x2)
Skirt (x1)
Dresses (x3)
Tops (x10)
Underwear
Swimsuit
Sarong
Pajamas (x3)
Accessories
Shoes (x6)
In hindsight, I could have left behind a bunch of these things.
I should have ditched some of the shoes, scarves, accessories, and outerwear. I brought a down jacket because it's compact but really warm; didn't wear it once. (Again, I was a little traumatized by being so cold on the beach trip a few months before leaving for Positano.) I did make the most of my denim jacket, though. The light sweaters were comforting to have but I definitely didn't need three of them.
In terms of styles of clothing paired with daily activities, I did pretty well. We had a few days on the boat, where I wanted a swimsuit but enough layers to not get sun burned. There were casual shopping days that required comfortable shoes, and nicer dinner dates that called for something a little dressier.
We lucked out and had the best weather while we were there. It was sunny, breezy, and not too hot the entire time. It's rained in previous years, which can make it pretty cold. We didn't touch the umbrella once this year.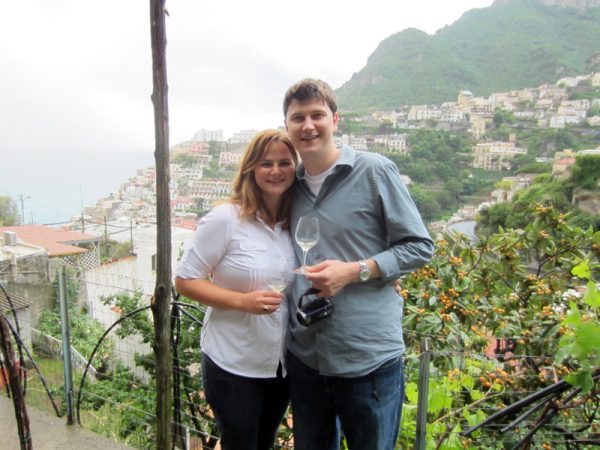 My Recommendations
If you're planning a trip to Positano here are a few things worth bringing with you.
Here are some at the top of my list:
Travel adapter
Credit card with no transaction fees
Comfortable walking shoes
Layered clothing
Good camera
Washcloth
One year I brought a small pocket camera but kept kicking myself for not brining my DSLR. This year I brought my DSLR and used it sparingly on days I knew we'd have great views. I'm so glad I did! It's cumbersome but I was so thankful to have it with me this year.
Want more details?
It takes us more than 24 hours of travel to get from Raleigh, N.C., to Positano, Italy. No matter how many miles I log, I still struggle with jet lag. If you're curious for more details about the trip, what I packed, and how it worked (or didn't) use the comments to speak up. I'd love to hear from you.