Last week, I shared a new post.
Did you read it? What'd you think?
Sometimes I write, share a post, and end up feeling like I'm sending stuff out into a great void. But then something cool happens, like bumping into someone at the grocery store who says, "I read your blog and love it!" Then, someone'll say how much my writing has helped them with filmmaking or dream chasing. That kind of feedback is super motivating and helpful, so please don't be shy, y'all. Use the comments on the blog or social media to tell me what's on your mind, eh?
Today I'm especially interested in hearing from you.
That's because I want to encourage you to join a program that has helped me tremendously over the past few years. Not only because I believe that it'll champion your success, but because it's a lot more fun when shared with others. (Kind of like catching up with a friend while exercising. Shout out to you, H!)
You've heard me talk about the Money Bootcamp with Denise Duffield-Thomas on the blog and probably rave about it in person. Last week, I introduced you to a free Money Mindset Workshop, which was available for a limited time.
Did you try the free workshop? What'd you think? Did it rock your weekend?
I also went through each free video and workbooks, and it revealed a whole host of new things for me. This weekend I also I spent some time with family at the flea market. I kept hearing our family's special brand of money blocks and stories come up. It's fascinating stuff!
That's one part of what's so cool about being a part of Denise's world.
Through her Money Bootcamp, I'm constantly discovering, releasing, and upgrading my own money stories. It's really helped me live with more ease, joy, and appreciation every day – which can be difficult when you're in the midst of daily life, chasing your dreams, or navigating uncharted territory.
I'm not doing it alone, either. Denise has built a community of more than 4,000 female entrepreneurs worldwide. I love hearing about their successes and struggles because they motivate me every day.
Plus, IMHO, Denise Duffield-Thomas is an incredible leader. She's one of my favorite examples of a wealthy woman, living and working in her genius zone, making the world a better place, and doing it her authentic "chillionaire" way. I am so thankful to have an example like that in my life right now. (Plus, I love her Aussie accent.)
There's another opportunity to get to know Denise and her programs today. Like the Money Mindset Workshop, it's totally free. I feel like it's a great chance to hear Denise, get a feel for her style, and see if this is right for you.
Free Live Webinar (7/31/17)
Denise is hosting a free live webinar today, Monday, July 31st, 2017, at 6:00 PM EST.
On the webinar, Denise will unpack her top five strategies to upgrade your money mindset. Even if you can't join live, there'll be a replay. (Although, I highly recommend blocking out the time to show up live because it'll be awesome.)
Register here (for free) to join the webinar.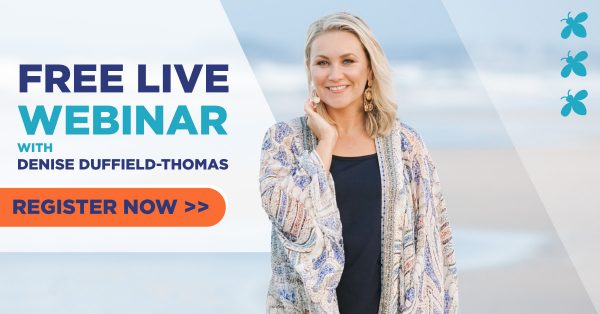 Let me know what you think of the webinar!
If you've got questions about any of this or want to geek out about money together, use the comments to share what's on your mind. I think money is such a fascinating subject, and I do love hearing from ya!
PS: I rarely recommend programs this way. So if you're eager for more film-related posts, please stay tuned. I've got plenty more coming your way!
Full Disclosure: This blog post contains affiliate links. I'm a proud affiliate of Denise Duffield-Thomas's books and programs, however, I only recommend things I've tried myself, believe in 100%, and think will benefit you. It goes against my nature to put rubbish recommendations out into the world. If you chose to make a purchase from an affiliate link, I'll receive a commission which goes towards keeping this thing operational. It's most appreciated.