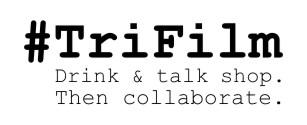 Huge thanks to everyone for coming to the TriFilm social last night! I saw a lot of familiar faces and had the pleasure of meeting so many new folks. So happy we could come together in downtown Raleigh, N.C., for a few drinks.
Thank you all for giving me a chance to geek out and live vicariously through you.  It was wonderful to hear about what you're working on: getting new cameras, cutting demo reels, earning graduate degrees, starting new businesses, and launching new projects. We have such a thriving film community. I love it.
Thank you, Poyner Spruill
Special thanks to the folks at Poyner Spruill for hosting last night's social. They gave us such a warm welcome! They worked with me for many months to coordinate everything. They deserve a BIG thank you for all the effort that goes into planning something like that — and making it seem so easy! Not to mention offering all of the delicious food and drink they served last night. Yum!
At the social last night a few folks asked me about Poyner Spruill and what they do. They recently helped me with some of my entertainment law needs. They were so easy to work with and took the time to make sure I understood everything. I'm incredibly grateful to have an ally help me with the legal part of making films. It gives me peace of mind, which helps me put more energy towards making my films instead of worrying about legalities.
For more info on how Poyner Spruill can help you check out their site: ncentertainmentlaw.com.
About TriFilm
What exactly is TriFilm? Short answer: it's a support system for people in the local film community.
TriFilm is currently a series of free socials that happen throughout the year, coordinated by yours truly with support from local businesses in the industry. The goal is to unify the existing, thriving film community. It's a chance to get away from the cameras and computers, learn about what others are doing, and find the support you need to keep your projects going.
I started planning these socials years ago while working on my first feature-length film, Abandoned Allies. We had our first social in January 2010. With encouragement from people like Nene Kalu and Beth Yerxa, the socials have continued to grow.
Want to learn more? Check out the TriFilm page.