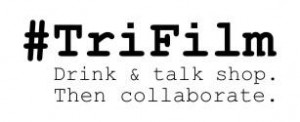 It's a pleasure to announce the next TriFilm event will be held at Trailblazer Studios in Raleigh, N.C., on Thursday, January 17, 2013. Mark your calendar and register online now.
Mingle with filmmakers on the Trailblazer Studios sound stage while enjoying light refreshments.  Then go on a tour of their state-of-the-art facility, led by Trailblazer Studios employees. Catch up with people you know, make new friends, and find inspiration in your conversations — you never know what might take shape.
While you're there, learn more about the work Trailblazers has done for clients such as Disney, Paramount, Discovery Communications, Scripps Networks Interactive, HBO, and National Geographic. They have worked on productions like:
"Kate Plus 8"
"19 Kids & Counting"
"Sister Wives"
"Abby and Brittany"
"Monster Road"
"Winged Planet"
Be sure to tweet using the hashtag #TriFilm to connect with people online and in real life!