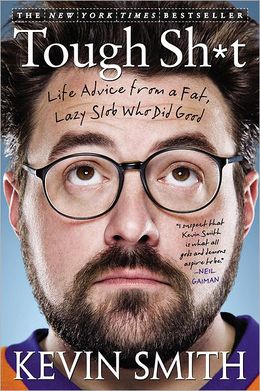 Recently I bought Kevin Smith's audio book titled Tough Sh*t: Life Advice from a Fat, Lazy Slob Who Did Good. I'm pretty sure a friend of mine recommended it. He's a big fan of Kevin Smith (@ThatKevinSmith).
I started listening to the book before Christmas, but couldn't get into it. (Tough to pay attention to an audio book while cleaning the house, apparently.) Then I carried it in my purse for a month but kept forgetting it was in there. This week I finally remembered I had the CDs on me, actually put the first CD in the player in my car, and started listening to it on my daily commute. Victory!
I'm digging the book. Mostly because it slightly lessens my hatred for spending so many hours in the car on a daily basis. (Sorry, Kevin). I do, however, love hearing behind-the-scenes / how-I-got-started stories. In that regard, this is right up my alley.
As you film-savvy folks know, Kevin Smith started his film career with Clerks, Mallrats, and Chasing Amy. He's talked about these films a little bit — namely a few details on that production process, film festivals, and distribution deals. He hasn't lingered on those early films too long, but started talking about more recent work.
I really enjoyed hearing about his experience with Bruce Willis. I've always loved Fifth Element and Pulp Fiction, so Bruce Willis has a special place in my filmmaking heart. To hear about how Willis acted on set with Kevin Smith is pretty disappointing, but also a really great lesson. People are people, and sometimes they disappoint you. Tough sh*t, as Kevin Smith says in the book.
It's great to listen to a filmmaker talk about his passion, career path, chasing dreams, lessons learned, working with others in the industry, among other things — in a brutally honest and hilarious way. So far I'm only on disc two, so I have a bit more listening to do. I can handle that.
The way Smith writes and talks makes me think he's a cool dude. I mean, I know people are like Kevin Smith nuts so I know that he's liked. But what I mean is this: I'd like to buy him a beer one day. Not because he made Clerks or Dogma but because he just seems like a chill, honest, fun dude. I like that. (Then again, I'm drawing conclusions based on the films he's made and the book he wrote — and he just warned me against that. Ironic, isn't it?)
I've also decided to make an audio book wish list. I spend too much time in the car these days. More books like this, please. And maybe I'll subscribe to SModcast, finally figure out how to put that on my iPod, and listen to more Kevin Smith on my commute. I've been meaning to do that for a while, too.