Recently I promised to tell you more about the screenings during filmSPARK in September. (The related blog post is here.)
It's taken me a while to sit down and write this for a number of reasons. I have a lot of irons in the fire so time is scarce these days. With post-production on Brewconomy, delivering my digital course Crowdfund Your Film, developing a new and improved TriFilm Society, and some heavy-duty training — I've got a lot going on. When work doesn't feel like work, it's easy to get wrapped up in it! (PS: If you want to follow along with those things easily, subscribe for monthly email updates here or like my fan page here.)
But I digress. That's not really why it's taken me so long to write this post.
In fact, it has nothing to do with that — and everything to do with how much my mind has been racing ever since I saw Harbinger. Some of the things I'd been thinking about independent film finally clicked as I walked out of the theater that night. And as I laid awake the night I saw the film, too wired to sleep. Honest.
But before we get to that, let me tell you about Harbinger.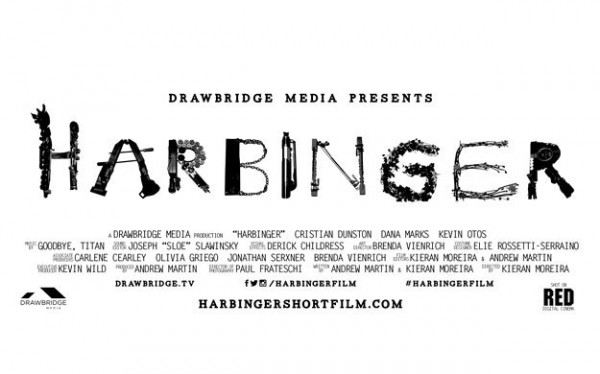 The short film is awesome.
You must see it.
As I sat in the Cary Theater watching this short film last month, I got completely lost in it. I was in awe of the beauty that unfolded on the screen in front of me. I left completely inspired and ecstatic about what I was watching.
Everything else faded away. That's the magic of a solid, beautifully-told story.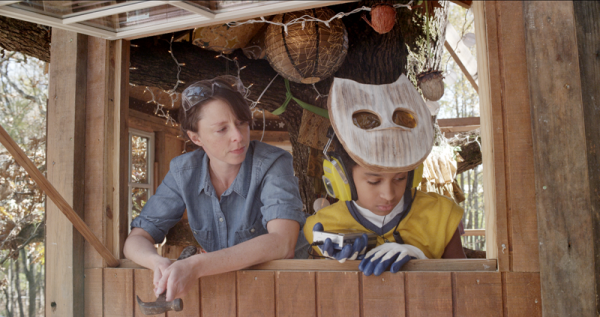 The short film is, essentially, about a little boy and how he copes with the arrival of his little brother. Here's the full synopsis, which I snagged from the filmmakers' website:
In the heart of rural North Carolina, Harold, a starry-eyed ten year old, races through the forest. He joins his adopted mother, Avery, just as she puts the final nails on his new treehouse. Troubled by the sight of a fiery giant deep within the woods, Harold asks to rehear the story of his own origin.

Holding her pregnant belly, Avery recalls how she caught Harold when he first fell to Earth years ago aboard a shooting star, narrowly escaping his previous planet's destruction. Assuring Harold of his new home's safety, Avery notices her old cassette tape, "The Mysteries of Outer Space," in Harold's possession. It echoes a warning of a Red Giant who engulfs powerless planets.

Captivated by the notion of catching his unborn baby brother, Harold makes plans to construct a net high above the treehouse. Unknown to Avery, Harold borrows materials from her woodworking shop to forge the path skywards.

As the weeks go by and Harold gets closer to the top of the tree, his obsession lands him in trouble at school and the strong bond with his mother begins to fray. Avery struggles with the impending birth and Harold confronts the demonic Red Giant in the woods. It's an ominous reminder of a dark past and an even murkier future for the family.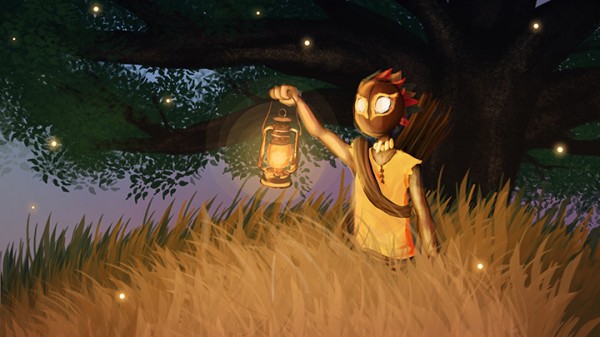 Harbinger is a healthy mix of fantasy and reality. It's subtle and beautiful. It's not just well crafted story, it's a delightful experience.
Everyone involved with the making of this film did such a fantastic job. It wasn't enough for me to see it once. I want another chance to watch it, plus I want to hear the filmmakers (cast, crew, etc.) talk about the process of making Harbinger.
What I loved most is that the beauty of the film (beautiful starry skies, awesome sets, fantastic costumes, etc.) served the story. The story complemented the beauty of the story and vice versa. This is why I left the theater so charged after seeing it.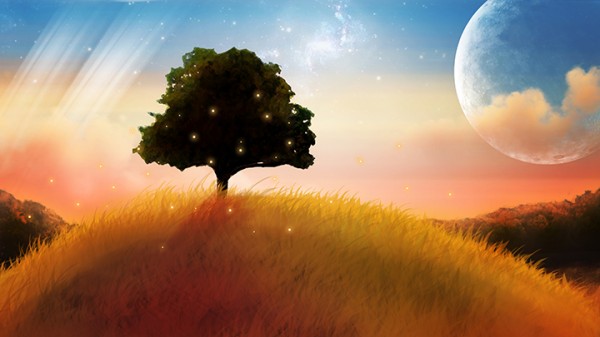 Here's where I completely derail from the Harbinger-specific thoughts, and circle back to independent film. Please stick with me. I'm no film critic; just a gal who's obsessed with independent filmmaking.
What I have learned is that indie film sometimes gets a reputation for being … well … not good.
As filmmakers, we do our best.
Some of us have, literally, zero training. We've just dreamed about it since we were kids. Some of us fell pray to the whisper, "You can't make a living doing that. Quit dreaming." So we skipped film school, saved up and bought a camera instead, and started making our own films.
This is courageous and amazing. It should be celebrated. Filmmaking is so challenging. The fact that anyone would find a way to make a film without any training — come hell or high water — is a big deal. Huge. I know because I've done it.
When I decided to make Abandoned Allies, I had no clue how to make a film. I struggled every single step of the way. I did have one thing going for me: perseverance. It could have been ignorance and stubbornness, but that's yet to be determined. Haha.
Making a film is — without a doubt — one of the hardest things I've ever done. It is rough! After I finished my first film, my entire family thought I was done with filmmaking. They had witnessed my struggles, seen my defeat, and carried me through some seriously dark days. They thought I would never touch another film again.
But, like so many others, I was bitten by the filmmaking bug too early. I'm not quitting this game any time soon. I love the challenges; bring 'em on!
Independent filmmakers aren't easily deterred. We love being in the game so much that we don't care how rough it gets. And, boy, it does get rough. Independent filmmakers are some of the most patient, creative, smart, and inspiring people I've ever met. We're an impressive lot, if you ask me.
So then … if we're trying so hard to make great movies, where's the disconnect? Why does indie filmmaking get a bad rep? Does it deserve it?
Maybe we're better off asking this: why do some of our films leave audiences unsatisfied? Why do audiences leave our films frustrated or disappointed? Is it technical errors, story flaws, or a lack of finesse they've grown used to from watching Hollywood blockbusters?
How do we, as independent filmmakers, compete with Hollywood?
This is just my humble opinion but I feel like this is how we succeed:
Quit competing against Hollywood and recognize that we have the home team advantage. We can play the game by our rules on our own turf. With our fans watching and cheering us on.
Learn how to have intimate relationships with our audiences. Serve them the best way we can every chance we get.
Shift perspectives. Get creative with the resources we do have. Make constraints work for us, not against us.
Always try to improve our craft. Share, grow, and learn together. Sign up for training opportunities when they're available. Be obsessive with learning and improving.
Learn how to raise money to pay professionals to help make our films as professional as possible.
My mind has been racing with these things for entirely too long. Pouring out these thoughts isn't easy and this feels like a messy blog post, so I recognize it may be rough — no matter how much I've edited (and edited) this post. I simply can not carry the weight of these thoughts any more.
When I watched Harbinger I finally felt some these things finally click. I left the theater shouting, "Yes! That's it! This is where we need to go."
Perhaps filmmaking doesn't have to be so damn hard. I have much more to think about. To be continued.
'Til then, I want to know where I can see this short film again, and hear the cast and crew talk about their experience. I'm fascinated.
Here's how you can get more info on Harbinger: