So many things have been happening — and so quickly — that it's tough to stop long enough to celebrate. That's why the year-in-review posts are one of my favorite things, even if they're a bit cliché. I can't help it, I absolutely love looking back at what transpired in the past 12 months!
Would you celebrate with me?! Here are a few of the highlights from 2014.*
1. Production on Brewconomy wrapped and post began.
We're working hard on Brewconomy, my next documentary about the North Carolina craft beer industry and its positive impact on the economy.
We wrapped production on the film earlier this year, and dove straight into post-production. We've been editing, creating motion graphics, and finalizing the story. We still have a lot of work ahead of us: music, final sound mix, and color correction. But I want to celebrate the huge milestones we've already reached.
A project like this is massive, complex, and time-consuming. I've worked with some seriously amazing people on this film — and they're the only reason I can do something this big and dreamy. Go take a look at my team, so you can say thanks. They overwhelm me with their generosity, talent, and passion. I'm one lucky woman.
People keep eagerly asking when they can see Brewconomy. We plan on premiering the film in 2015, so stay tuned. It's still a work in progress right now.
2. We stepped up our game on TriFilm.
The response to each social has been overwhelming. They're sold out and the house is perfectly packed. It seems like people really enjoy TriFilm — and want more of it.
The most recent social at Myriad Media in August 2014 may have been our biggest yet. There were so many new faces. We also were lucky enough to have the talented Alex Boerner capture the fun. (Check out his pics and my recap here.)
It also seems my fellow filmmakers are eager for the creation of something more official. You've asked for ways to connect online, find resources, learn more, and gain access to the already-strong community here. I hear you loud and clear.
You asked, so we're responding. Next year will be a big one for TriFilm as we become the TriFilm Society. Sign up to get more info right here: trifilmsociety.com.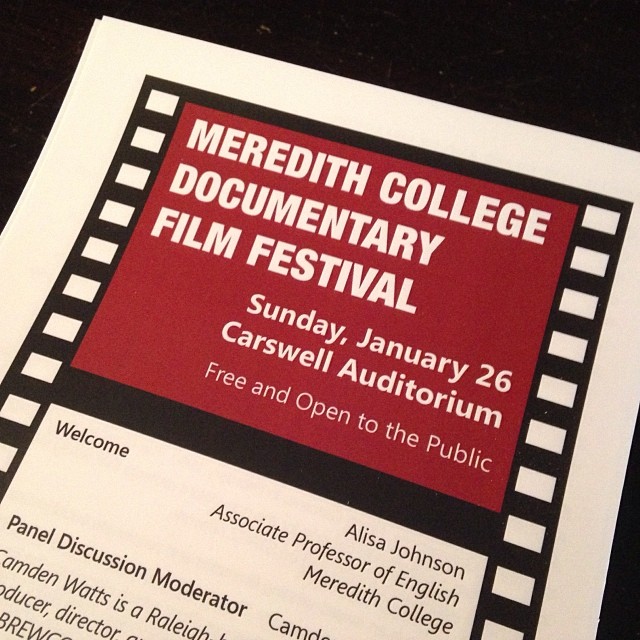 3. Film festival fun.
The first annual Meredith College Documentary Film Fest went off without a hitch. It featured a number of films I really adore. I got to chat with the filmmakers, served as emcee, and reconnected with some of my favorite people at Meredith College (my Alma mater). Next year the fest will return on Sunday, January 25th. We'd love to have you in the audience so save the date. I'll be there.
The Full Frame Documentary Film Festival was a huge hit. I volunteered as a member of their social media team. It was a lot of fun; Full Frame never disappoints. One of my favorites was shortlisted for the Oscars, too! (Read more about two films you should definitely see soon right here.)
There are many other fests I'd like to attend, locally and worldwide. I look forward to getting out more in the years to come. It pains me to miss out on fun things like Cucalorous and SXSW!
4. Two of my films screened at Alice Fest.
Alice Fest is an excellent film festival featuring the work of female filmmakers. I was lucky enough to help the film festival founder, Vivian Bowman-Edwards, promote the event on WUNC's The State of Things. (Related blog post is right here.) Watching my films in front of a live audience was so rewarding. It's also a wonderful feeling to be in a room full of female filmmakers. They're doing such impressive work. I can't wait for the next Alice Fest in March 2015!
5. My education continued.
This year I went through a few filmmaking courses, including Directing Motion with Vincent Laforet and  the Illumination Experience with Shane Hurlbut. They were incredible and helped me gain a lot of clarity on the ways in which I want to tell stories going forward — both fiction and documentaries. (I have a big heart for both.)
After going through both of these courses, I feel like I'm on fire. The fog has lifted and I know exactly how to move forward. I can visualize the films with much more detail, and I know how to bring my visions to life. I am ready to step into my own as a director. It's a wonderful feeling.
In addition, I went through a few courses about online marketing. As a filmmaker I'm making great stories for the big screen, but I also need to understand how to share them with my fans and new audiences. Plus, I've been obsessed with social media and blogging for eons.
All of these classes helped tremendously. I have some big ideas brewing, and can't wait to share them in 2015.
6. Crowdfund Your Film: A Step-By-Step Guide launched!
My own course about crowdfunding for filmmakers, Crowdfund Your Film, went off without a hitch this year. It's really, really, really exciting. I'll tell you why.
Being an independent filmmakers is challenging. There's a lot to learn, incredibly challenging, and it can be an expensive process. From the outside, crowdfunding starts to seem like "easy cash" and the solution to getting films made. But it's really challenging to get it right. Many campaigns fail.
A failed crowdfunding campaign is more than lost funds, though. It creates a downward spiral of self-doubt and deflated confidence, both of which slow down the production process for a filmmaker. So much time, energy, and effort gets wasted. This makes me sad because it doesn't have to be that way.
In addition, more and more indie filmmakers have asked for my help. I've gotten countless invites to coffee to discuss the industry, crowdfunding, networking, etc. This is a huge honor and I don't take it for granted because I know how tough it is to make your own films. I've been figuring it out the hard way for many years.
But this method of trying to learn many years of lessons over coffee isn't feasible. I can't share enough that quickly to genuinely help an emerging filmmaker — no matter how much I want to. Plus, I don't have enough free time to meet up with everyone. So how can I best serve my fellow filmmakers who are struggling the way I did when I first started?
The answer to these problems came to me earlier this year, and I've been working towards it ever since. I can package the things I've learned and make them available online, so I can help my fellow filmmakers efficiently. I can also make it easily accessible and infinitely more in-depth than what we could cover over drinks.
That's why I launched Crowdfund Your Film: A Step-By-Step Guide! It's a means to share what I've learned about crowdfunding with eager filmmakers who want and need this information. Together we're building a great community of like-minded people who are passionate about stepping up their filmmaking game by raising funds online. This course is helping emerging filmmakers ditch the "starving artist" attitude and start asking for support with confidence as a pro — instead of feeling like they're begging for cash to support an expensive hobby. What a mind shift.
My students are already doing big things with what they've learned. They're forming new collaborations, starting their own online marketing, and reaching out to better understand what their audience want/need. It's exciting stuff.
If you, or someone you know, is interested in going through this course I am launching it again in the spring. In the meantime, I'm making significant improvements to the course and adding even more value. I keep thinking of things that will help my fellow filmmakers and it makes me SO happy!
Sign up for more details here: crowdfundyourfilm.com.
7. Drastic improvements for staying connected with fans were made.
This year I worked on ways to make it easier to keep my fans in the loop because there's a lot going on. I genuinely want to build a deep, trusted relationship with my fans. They mean so much to me, and they're the reason I keep going. No joke.
That's why I launched my monthly email updates this year. That's where I share a lot of personal but relevant details with my fans. It's the type of stuff I don't share anywhere else online, and the feedback I've gotten has been overwhelmingly positive. It feels good to "be real" in that space. (Sign up here.)
I also created a Facebook page, so everyone can follow along easily. It's public so anyone can find it. Plus, it's all film-related so I don't feel weird about flooding someone's timeline with stuff they don't want. Win-win.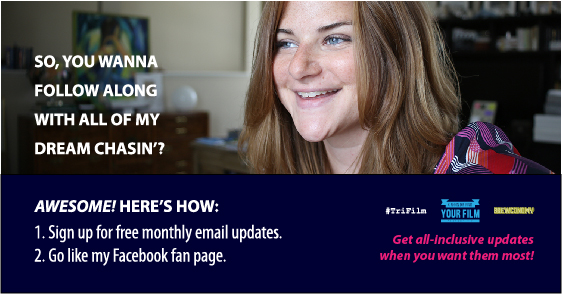 In addition, I'm blogging differently. Previously I was writing for the sheer joy of writing: haphazardly and without too much strategic direction. Now I'm publishing less frequently. This means I can delve deeper into why I'm publishing each post, and specifically how it'll help others. It's quite rewarding, too.
By the way, blog posts about what's happening in the film industry and local community will now be published through TriFilm when the new site launches. That is a much better place for content of that sort. If you like that kind of thing, be sure to sign up here for details when it goes live.
8. Loads of personal stuff happened.
Seriously. This year was a huge one. It was crazy.
Derek and I moved into our new house at the beginning of the year — with the help of many loved ones and in the middle of severe weather / tornado warnings. We've spent the entire year unpacking, decorating, shuffling furniture around, buying/selling stuff to make it work. We're now celebrating our first real Christmas as a married couple, putting ornaments on the tree and everything. (Last year was our first married Christmas but we didn't set up a tree since we were moving soon.) There's a lot of work left to do, including having a housewarming party, but for now we're resting easier by the fire. Hooray for that.
Plus, I now have a pretty sweet studio at home so I can work on my film-related things easily. I still have some decorating and decluttering to do. It's a work in progress but so far it's been an incredible joy to work in this space on a regular basis!
This year we also went on vacation with family. It was an unforgettable trip to Positano, Italy, with Derek and his parents. I married into a family that has visited this region for many years, and they have lots of friends there.
It's really fun to visit and spend time with what feels like their extended family. One night we found ourselves talking about Brewconomy, and it was so much fun to share what's happening in the N.C. craft beer scene in Italy. So surreal.
This year, celebrations with friends were also abundant. One of my best friends got hitched, so there were many showers, parties, and fun times had as a result. There were more birthdays, babies, showers, and weddings all year long. And, sadly, there were some funerals as well.
We feel so lucky to have such great people in our lives. I'm grateful for our family and friends that support us, our dreams, and all of the mess we get into. They mean the world to me, and I hope to have more quality time together in 2015.
9. Gigantic personal development stuff went down.
Some pretty big things are happening next year. To better prepare for those big things, I went through a lot of personal development this year. It was an intense study.
This is the kind of stuff you don't share because it's difficult, challenging, and less than attractive. I confronted and dealt with a lot of my own mess. Finally figured some stuff out, too. I'm very grateful for that.
I don't pretend to have it all figured out; never will. But I'll tell you this: dealing with your own hangups, oddities, and ugly past will help you be a healthier person. It also helps you feel more joyful on a daily basis, step well outside your comfort zone, and conquer those big dreams you're chasing.
10. Seriously HUGE plans for 2015 are still taking shape.
You guys. Next year? It's going to be epic.
Since Brewconomy is wrapping up, we're working on a premiere and theatrical screenings statewide in 2015. All of those details are hush-hush right now because we're still finalizing everything. Stay tuned, though. It's going to be so fun!
As one film wraps, I'm starting another. This is the nature of filmmaking since pre-production is filled with meetings and conversations. It doesn't mean the work-in-progress gets any less love or attention. That being said, the new film is going to be really great. I have had a few meetings, and everyone is enthusiastic about it. I'm doing a lot of pre-production work right now: seeking grants, applying for fiscal sponsorship, looking for support, getting legal stuff in order, etc. I'm so excited about it! More details on that as Brewconomy wraps up, mk?
Earlier I mentioned Crowdfund Your Film: A Step-By-Step Guide, which is my digital course for filmmakers. There are a lot of things happening right now in preparation for another launch, including sharing a lot of FREE info. See, even if a filmmaker doesn't buy the course, I want them to feel better prepared for fundraising. Crowdfunding is such a monumental thing to tackle. It can go wrong so easily, and I don't want anyone to experience that disappointment. So I'm working on a load of freebies to share with my fellow filmmakers; it makes me insanely happy!
TriFilm is also changing shape, which I referenced earlier. What has previously been free networking events for the past five years will grow into something bigger and even better. I have big plans for the community and how to serve it, based on all the feedback I've been gathering. I'm really, really excited. It's going to be incredible!
There are some other huge, exciting things happening. It's too early to talk about them right now. But I'm ecstatic about where things are heading. As always, I'll share the journey with you here on this blog, Facebook, Twitter, Instagram, and via monthly email updates.
THANK YOU
This year was a giant one, filled with memories I'll cherish forever. Many of you have shared your time, enthusiasm, expertise, and even your cash to help make my filmmaking dreams come true. I can't keep doing this without you. So thank you for everything. Sincerely.
My mission as a filmmaker is to tell great stories for you. I want to make beautiful, interesting things happen on screen. Things that move, inspire, and entertain you.
I want to tell great stories that make the world a better place for all of us. That means awesome fiction and documentary films; movies that help us forget our troubles or face reality. It also means providing solutions to the problems each film presents, so we walk away understanding the role each one of us plays in changing the world for the better, even with something as simple as buying a North Carolina craft beer.
Thanks for the vote of confidence. Thanks for asking how things are going. Thanks for following along. Thanks for sharing with your friends. Thanks for pitching ideas. Thanks for volunteering. Thanks for listening.
Thanks for being you. I'm deeply honored by this thing we have going on, and never take it (or you) for granted. I'm so grateful for the chance to work with all of you.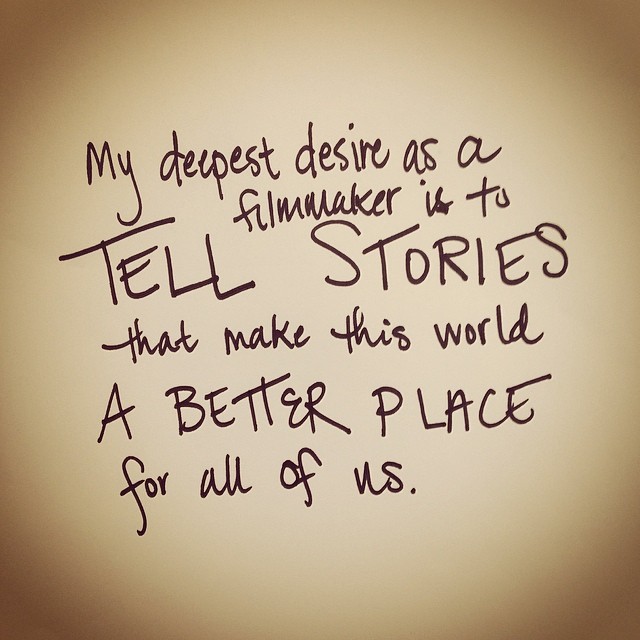 HAPPY NEW YEAR
To each of you, happy new year! May 2015 be filled with laughter, sunshine, deep thoughts, and quality time with loved ones.
Cheers, y'all!
*NOTE: It's important to recognize this as a highlights reel. Real life is not glamorous, nor is it always rosy. Sometimes people tell me that they live vicariously through me and they feel my life is an adventure. While that is awesome and it can be true sometimes, there were also some really tough times this year. That's just the breaks of the game of life, no?
Since I tend to share those things privately with close friends and family, don't let this post mislead you. I'm a flawed woman and I have loads of bad days. Nobody's perfect but life can be grande! We're all figuring things out on a daily basis. If you're having a tough time, hang in there. The sun will shine tomorrow.