Recently I launched the new look, social profiles, and website for the TriFilm Society. It's something I've been working on for many years. I'm so happy to finally have it live.
We had been using the same image and tag line since 2009, when I first started organizing events for the film community. Not only was the look a little outdated after six years but it no longer represented where we're headed in 2015. (Hint: we'll be doing a lot more than just talking shop.)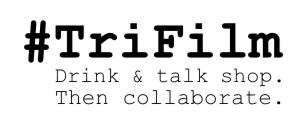 For you, my loyal readers, this means a few changes. There's a new home for a lot of the content I typically share here. I'll still blog here about what I'm working on, how it affects me, and how you can get involved. But film community events, encouragement for my fellow filmmakers, and info/resources about how to make films will now be posted on the TriFilm Society site.
This new home — trifilmsociety.com — is a much more logical place for that type of content. Please be sure to check it out. While you're there, sign up for free emails from TriFilm written by yours truly. (They're very different than my personal monthly email updates, by the way; I always respect your inbox.)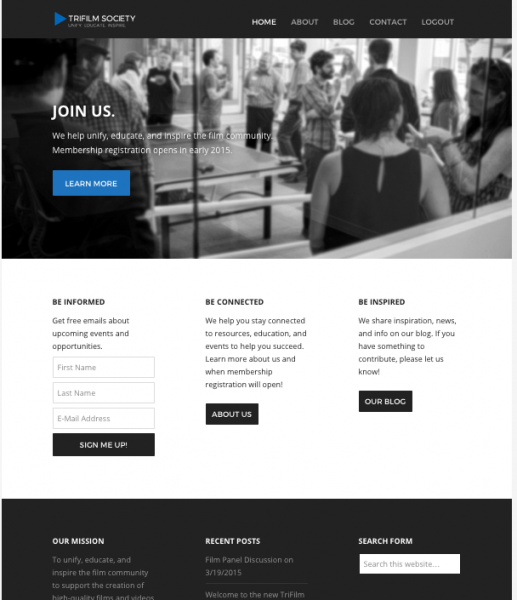 If you want to follow along with the growth and changes associated with TriFilm, you'll find all of those posts on the new site. This is likely to be the last TriFilm-related post here.
Interesting side note. While chatting about these changes recently, I realized something wild. I've been blogging about filmmaking for 10 years. Can you believe it?!
My first blog was about moving to LA, and I posted it on MySpace in 2005. After I found opportunities right here in N.C. — meaning I didn't have to pack up and move cross-country — I started blogging about the making of Abandoned Allies around 2008.
When Allies wrapped, I moved everything to this site, where many of you have been following my latest work: Trophy, Landfill Dogs: Behind The Scenes, and Brewconomy. It's really cool to think about that, especially since we're wrapping Brewconomy and I'm starting my next film very soon. (By the way, I'm disclosing details about the next film in my monthly email. If you want the scoop be sure to sign up now.)
Thinking about the growth I've experienced and all of the amazing people I've met over those 10 years is touching. I have seen my home state grow and change a lot in that time, too. Perhaps I'm an eternal optimist but what I see ahead of us is really exciting. I'm so thankful you've all been here to share the journey.
They say that shared joy is double joy, and shared sorrow is half sorrow. I know this is true because you've been here to help celebrate, offer encouragement, and a kind word when I needed it. Thank you for being such loyal, wonderful people.
Cheers to the next chapter, y'all! It's going to be a wild one!