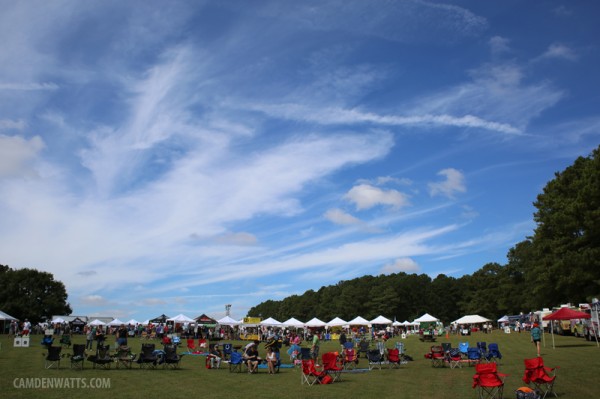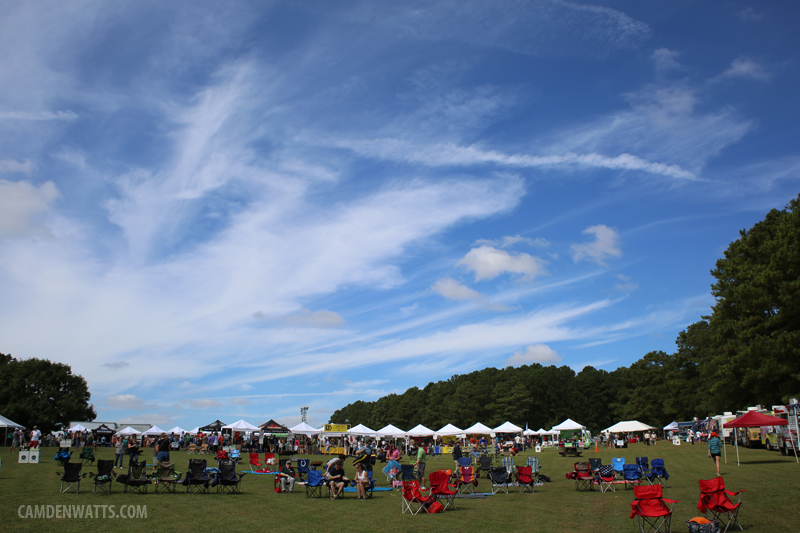 Last year I attended the Beericana Craft Beer and Music Festival as part of my research for Brewconomy, our documentary about North Carolina craft beer. We were in post-production at the time but, as many of you know, the craft beer industry changes on a daily basis.
Attending the fest was a huge help because it meant I could sample beers from across the state without the production expenses of traveling or bringing a film crew.* It was the first time I sampled several out of town beers that weren't being distributed in the Triangle.
Beericana is upon us again, which is crazy and exciting because it helps me appreciate just how far we've come since September 2014. Not to mention how much has changed for North Carolina beer since we started the documentary in 2012. Things in Charlotte, N.C., were still heating up when we started shooting. Last weekend I was in the area and got a firsthand look at just how much the Charlotte beer scene has grown since we wrapped production and it's absolutely wonderful.
Now that we've finished Brewconomy, we're touring the state with the film.
The idea is pretty simple: let's "practice what we preach" by using the film screening to continue the conversation about North Carolina craft beer and simultaneously strengthen the local beer economy (aka: a "brewconomy"). We partner with independent theaters and beer businesses to make the screening a beer event. It makes for a fun and rewarding night for everyone involved.
At our Cary, N.C., premiere on Wednesday, June 17th, the panel discussion included Adam Eshbaugh (@919beeradam) and Wayne Holt (@919beerwayne) of 919 Beer, the guys who bring you Beericana. They've been a valuable resource while the film was in post-production, a process that means you're in the studio not out in the community talking about beer. The fest and their podcast are something I believe are helping the NC beer scene, so it was really wonderful to have them on the panel last week.
Beericana is taking place this September at a beautiful open space in Holly Springs, N.C., and I encourage you to attend. It's a great place to sample NC beer, hang out, eat great food, and listen to awesome music.
Some folks will especially like sampling and sipping beers without the "investment" of a full pint. A sample means you can branch out of your norm without any pressure. Just be sure to take more than one sip and stop to appreciate differences between styles. You'll find that the flavors change a bit with each sip.
You can also ask brewery reps for beer info and tips on sampling; they're a wealth of info. Just be sure they're not overcrowded when you try to strike up a conversation. To do that easily, be sure you snag the VIP tickets. You can get samples and chat with brewery reps while there's a smaller crowd. You'll have plenty of room to yourself to roam around, too.
See you there?
Meanwhile you can:
Join the Beericana ticket release for info about getting tickets when they go on sale on Saturday, July 11th, at 10:00 AM.
Read my write up on Beericana from last year (with plenty of photos) right here.
Wear your Brewconomy Kickstarter backer exclusive t-shirt to the fest! Tweet us your pics at the fest wearing your t-shirts. We'd love to see them!
Watch Brewconomy. Check out the trailer and sign up for my email list so you'll get news first about upcoming screenings.
*SIDE BAR: I've been joking for years about "drinking my way across the state with a film crew" to create a web series on North Carolina craft beer. In all seriousness, I'd jump on the chance to direct it if the right investor came along. Local craft beer has been a big part of my life since Pop the Cap about 10 years ago. There's so much to talk about that's not included in our 60-minute film, and I'm dying to continue exploring it. Give me a call if you know someone who wants to be a part of something like that.