This post is for Veronica, who was kind enough to ask a few questions about making movies. I'm so happy to share a few behind the scenes details. This is part one of a two-part blog series to answer her questions.
I hope you find inspiration here, Veronica!
---
1. What is a typical day in your line of work?
No two days are alike.
Some days I'm in the studio, working at my computer. Right now, for example, I'm in the studio creating content for the TriFilm Society.
During the week, I have a lot of meetings to talk about filmmaking and ways to support others. These meetings happen in offices, over meals or coffee, and over the phone. There are a lot of conversations that take place before you ever start shooting, so I'm constantly out meeting with people.
Other days I'm on set – either directing my own projects or supporting someone else's work. I love being on set, even if I'm not directing. Sometimes I work as a producer, production assistant (PA), behind the scenes photographer, or extra.
The variety certainly keeps things interesting, which suits me really well.
2. What exactly does your job involve?
As a filmmaker my roles are writer, producer, and director. I've had my hands in every stage of production but those three roles are my favorite.
Writing involves finding and/or literally writing the stories. I wrote the treatment and narration for Abandoned Allies, and the screenplay for my fiction short comedy Trophy, for example.
As a producer, I have my hands in every stage of production from concept to completion. The producer role typically involves a lot of the business / organizational / logistical work. There are a lot of different types of producers, so I also love to work with a team of excellent producers to keep things running smoothly and under budget.
As director, I protect the vision for the film and lead my team so they're set up for success. I want everyone to have the best experience possible because they're the ones really making it happen. It's important to me that they feel trusted, protected, and respected so they can do their best work.
As founder of the TriFilm Society, I have the pleasure of helping people in the film community. I create and share content for our members, as well as organize events throughout the year. We have a social scheduled for Tuesday, December 1st, which is one big thing I'm working on right now. (You can get more details about it here.)
I have a lot of exciting things planned for my own films and the TriFilm Society 2016.
3. What are the pros and cons to your job?
Being your own boss means a lot of freedom but it is also a lot of responsibility. This work constantly pushes me outside my comfort zone, which is thrilling but exhausting.
I'm always in competition with myself to keep improving and step up my game. That is a rough mode of operation – but it's also the nature of an artist and the film business. It prevents stagnation, for sure.
4. How did you get to the point where you are now?
I had been dreaming and exploring a life in film since I was a little kid.
But I grew up in eastern North Carolina, which is about as far from L.A. as you can physically get and still live in the continental U.S.A. It made Hollywood seem so unreachable.
Plus, the only roles I saw for women were the leading ladies. I was a freckle-faced tomboy with skinned knees who didin't fit the part. I wasn't sure there was a place for me in film because I didn't know enough about the other roles.
As a result, I was lost for a long time. I didn't know how to find my way in.
Eventually, for better or worse, I forged my own path. I failed my way forward. I have been lucky to find a way to make movies here in North Carolina, and I'm incredibly grateful for it.
5. What kinds of movies do you specifically enjoy making?
I've made four films, the majority of which are documentaries.
There's so much about documentary filmmaking that suits me. I have been really lucky to work in that world, and hope to continue doing so for as long as I can. I'm attracted to stories about the South, strong and interesting people, and ways to make the world a better place. I like the idea of watching a movie, opening your mind, and changing you habits afterwards.
Documentaries are a natural lead in to the corporate work I've started doing, too. Finding the story in a corporate setting is a little different, mind you, but there are a lot of similarities. The lessons I've learned in documentary filmmaking translates well.
My dream of making movies was born out of watching the same fiction films repeatedly while growing up, though. I adore drama, romance, comedy, and action. So there will be more of those films in my future. I'd really love to make a film with gorgeous cars, big explosives, and lots of ammo. True story.
I'm currently building the cast and crew for a short action sequence. It's going to be a great new challenge to shoot a fight scene. We may be shooting it in early 2016, but there's a lot of pre-production left to do.
6. How long approximately does it take for you to finish a movie?
They tend to take a long time right now, but that's mostly because of the lack of funding.
Abandoned Allies took five years. Brewconomy took about three years. Trophy took about two years. Landfill Dogs: Behind the Scenes was the fastest at roughly six months because it was an experiment using my iPhone.
Now that I have four films under my belt, I'm taking a very different approach to funding. Grants are at the top of my list but I'm also getting better at crowdfunding and seeking investments.
7. How many people does it usually take for you to make a movie? What do these people all do?
There are so many talented people involved with the making of a film.
I couldn't do it without them. Take a look at the end credits of each film I make and celebrate each person listed. They are my heroes. No joke.
There are so many roles within the industry. This infographic is pretty great.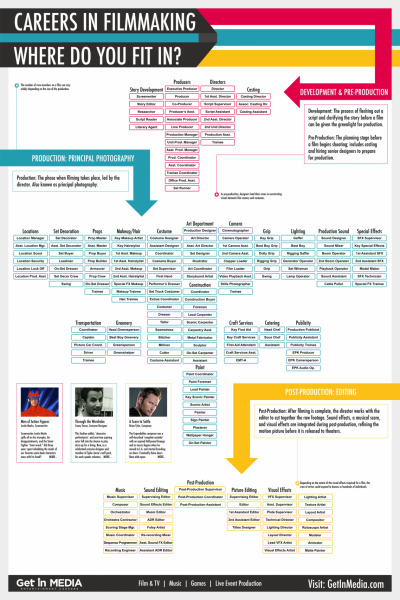 If you're new to filmmaking, you may have your hands in everything and that's a great way to learn. (I was a "one man band" for a long time. It taught me a lot but it was wildly inefficient.) Eventually you may specialize in areas that make the most sense for you. You can always test out different roles, too.
8. What are some good tips you have for people who are interested in photography or videography, but don't have the resources for quality equipment at the moment?
Use what you've got.
This is one reason I made Landfill Dogs: Behind the Scenes. It was an experiment to prove that the best tools are the ones you have right now. I used nothing but my iPhone to shoot, edit, and distribute the film.
You can learn so much by simply starting. Eventually you may decide rent or buy your own equipment if it makes sense. By the time you make that investment, you will have learned a lot.
There are a lot of resources online to learn DIY methods, too. Check out Film Riot, for example. Those guys are great.
9. How do you market your films and what does that involve?
All of my films have been self-distributed, which is a lot of work but it's taught me so much. I've been building an audience for years using word of mouth marketing, email updates, social media, and blogs. It takes a lot of time and energy but I have found that directly engaging with an audience is one of the most rewarding parts of making and sharing a movie.
10. As the demand for good TV shows, movies, and dramas continues to grow, and with the resources for publishing content through Youtube and social media expands, do you believe that this line of work will become easier or harder to get into?
A little of both, I think.
I believe we're in the midst of a massive upheaval in the entertainment industry.
We've seen the "democratization" of film, meaning that you can go buy a DSLR for a few thousand dollars and make a movie with it. That doesn't mean the movie will be great or anyone will watch it. The market is more and more flooded.
As consumers you can watch whatever you want, whenever you want, and on whatever platform you choose. Consumers, therefore, have all the power. You choose what succeeds by giving it your attention.
The thing that excites me most is that I can create content for an audience that's eager and ready to watch. I absolutely love spending time with my audience, and am eager to serve them something they'll enjoy – as cheesy as that sounds.
11. What kind of personality traits or characteristics in a person would you say are best suited for your line of work?
Oh, man. I'm a little stumped on this one but I will tell you what I look for when building my crew:
Honesty, integrity, and trustworthiness
Intelligence, passion, and technical craft
Humility, teamwork, and humor
When I build a team I'm looking for the best of the best. It's not enough to do simply your job. I want people on my team who do their job really well, act professionally, and know how to add to the production.
When you get the right people together it's an incredible thing.
12. Does your job involve lots of room for creativity or would you say that the technical part of things sort of rules during a production?
I used to do a lot of technical stuff like camera operation, lighting, editing, etc. But they aren't my biggest strengths. In fact, I'm really bad at a lot of stuff.
There are other people who are way more talented at the technical things than I am. For example, Meredith Schmidt edited Brewconomy and did a fantastic job with it. It made the film infinitely better and I adored working with her.
Directing is my jam. To get better at it, I'm shirking other responsibilities so I can focus on directing.
It's a challenge because I geek out over every stage of filmmaking and I love learning.
13. Would you suggest interning at local film studios/theaters. If so, how would you suggest people go about that?
Yes, definitely. Get internships wherever you can, as early as you can.
Make a list of the businesses you want to know more about and do your research. Learn as much as you can online. When you've learned as much as you can on your own, then find a way to talk with someone at that company.
Make genuine connections. Think about what they need – not necessarily what you want. Be indispensable.
Although some internships get posted publicly, there may be opportunities that aren't advertised. It never hurts to ask.
14. What would you suggest for teenagers and high school graduates who are hoping for a career similar to yours?
Make it happen.
The great but frustrating thing is there's no clearly defined path. We each have our own relationship with film and video. You have to find your own way. So do it.
Don't overthink it. Try it on for size and see what makes you happy. You'll gain confidence by taking action.
Know that there's a place for you. You have a voice and something valuable to share. We need you to find that thing you're passionate about and go for it.
Playing it safe by getting a job that makes your parents happy may make for a comfortable life – but you may lead a miserable existence. Life is too short to stuff that dream down into the depths of your soul where it eats away at you every day. Live fearlessly and joyfully.
Oh, one more thing. Be good to yourself along the way. Chasing your dreams may be a rough, uncomfortable journey but it's worth it. Remember to laugh, spend time with loved ones, and treat yo self!
TELL ME WHAT YOU THINK
Do you agree? Disagree? Have you own suggestions?
Use the comments to tell me what you think. I'd love to hear from you.
GET EMAIL UPDATES
You can join me on this filmmaking journey. Sign up for email updates here or use the form in the side bar at the top of this page. I love sharing behind the scenes info with you!