Why do I take questions?
I get requests from fellow filmmakers pretty frequently.
People invite me to lunch, drinks, or coffee often to "pick my brain" about what I've learned in the 10 years of making movies. But … it's tough to accommodate everyone. It's even more impossible to distill all that I've learned into one short meeting.
That's why I blog and it's why I formed the TriFilm Society. (Read more about starting TriFilm here.) It's my sincerest hope that I can help as many filmmakers as I can. So I'm always looking for ways to do that more efficiently.
When I started making movies, I had nothing but my blind ambition and iron will. There were many, many mistakes and failures along the way. A lot of people were kind enough to help me out, so I want to pay it forward.
Sharing those experiences not only helps other filmmakers, it helps great stories get made / shared. My theory is that (in some small way), these things could help make the world a better place one small step at a time.
So, without further, ado, enjoy these Q&As from Nick!
Did you miss part one? You'll find those Q&As here.
Q: Do I need people to sign a waiver if they are interviewed for my documentary?
Yes, you should have a release form signed by every person you interview on camera. Do some googling and you'll find a lot of resources, thoughts, and opinions on the matter. Seek legal counsel about what, exactly, you'll need for your film in your region.
Do you ever compensate an interviewee? If not, have you been able to go from no to yes with regards to interview consent? What'd you do to get them to change their mind?
No, I have not directly compensated someone for granting an interview because I feel it may compromise my journalistic integrity as a documentary filmmaker.
I don't want there to be any questions about why someone would grant an interview or influence what they say on camera. That's just me and other filmmakers may have different experiences.
Getting consent for an interview can take time.
You're building trust and a relationship with someone. They most likely feel like they have a lot on the line. Remember, it's their face, experience, and real life on screen. This puts them in a really vulnerable position. Try to be understanding and patient.
A person be seeking evidence of your credibility as a filmmaker, and if you're on your first film it can be tough to get a lot of doors to open. Borrowed credibility is helpful, though. If you're new to a community you can work with a producer who's very familiar with everyone and has those relationships.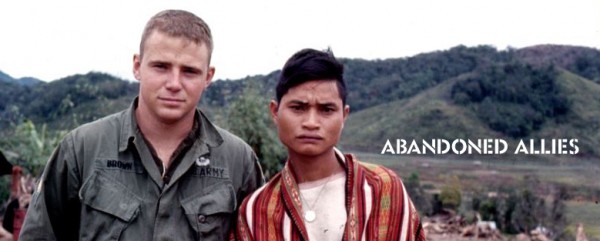 For example, on my very first film, Abandoned Allies, I was a 20-something year old girl with no military experience interviewing the U.S. Special Forces who served alongside the Montagnard people during the Vietnam War.
My executive producer, however, served during the war as a Green Beret and had a lot of credibility within both of these communities. It's because of his involvement, commitment to excellence, and guidance that we were granted interviews. He spent 40+ years building those relationships, and that makes a huge difference.
New to the film Abandoned Allies?
You can rent it here: vimeo.com/ondemand/allies.
If you're getting a lot of closed doors, you can be politely persistent with a person.
There's a lot to be said for consistently showing up.
Is it common to use and pay for fixers to help you land a major interview?
This one's tough.
In my limited experience, I would say that paying for assistance in landing an interview may cause concerns about credibility or integrity. But that being said, it could be the practice in other regions where I'm not making movies.
You'd be better served by researching what the leaders within the documentary film industry have to say about it. Look online for articles published by organizations like the International Documentary Association. Attend festivals and listen to what other filmmakers are saying about it, too.
There's a wealth of information online, if you're willing to dig through it.
If an interview is getting stale, do you have any tips/tricks to get the subject to open up and be more interesting?
Interviewing is an art.
It's a craft – much like cinematography, editing, or directing. Think about your favorite TV host personality and why you like watching them. Study their behavior, how they ask questions, and reactions / responses. It's fascinating.
Yes, there are tips and tricks.
But, honestly, I think it's something you perfect over time with experience.
As an independent filmmaker who conducts my own interviews, I think building credibility and trust with someone your interviewing – long before the camera starts rolling – is really important.
It's also helpful to send questions ahead of time, so the person you're interviewing can think through their answers without feeling like they've been put on the spot.
Some form of auditions / casting can be really helpful – yes, even in documentaries . You can do a test to see who's a strong personality on camera, knowledgeable about the subject matter, and interesting to watch. Of course, some people aren't good on camera. They clam up. There may be very little you can do about it once you're shooting.
Do you recommend starting an LLC? What if I'm planning on doing all of the filming and editing work by myself?
I'm not an attorney, obviously, but I highly recommend you seek legal counsel about protecting yourself and your assets. It's tough to generalize, so I don't know if an LLC is best for you and your situation or not. Talk to an attorney about it.
There are a lot ways in which things can go wrong. I don't want to scare anyone with horror stories or worst case scenarios. But I do think it's important to plan for the worst and hope for the best.
Plus, having that separation makes some business-related things easier down the road.
For topics that require a significant amount of historical research, what's the best way to get external support for info gathering?
Whew, historical research can be a wormhole.
I'm biased, since one of my favorite parts of making a documentary is being the principle investigator. I'm a life-long learner. It's in my nature.
On projects like Brewconomy, research included hanging out with awesome craft beer aficionados and drinking together, so it was especially delightful.
But, doing my own research suits my personality. I love to read, watch relevant movies, and talk with subject matter experts. My biggest danger is getting caught in that phase too long.
Diving into a community to better understand it is part of what really gets me excited about making a film. I want to understand, so that I can represent that community accurately. It's a huge responsibility. That's why I'm always thinking about what stories I'm most qualified to tell. (I come by this curiosity naturally; my parents were teachers who always encouraged me to seek the truth. Read more here.)
Of course, I don't do it all alone. I've been very lucky to work with producers, volunteers, interns, and occasional supporters who have helped with making my movies – including research.
It has been tough to keep things moving steadily, quickly, and reliably without a budget. I daydream about having a budget to financially sustain these filmmaking efforts in the manner I see fit, and am working really hard to make that a reality.
If you don't have the resources (time, energy, money, or staff) to tackle things the way you want, don't let it get you down. Do the best you can with what you've got. Ask for support. Keep working.
You'll be surprised at how far you can go if you're willing to stick with it.
Stay tuned for more.
Nick's questions continue in Part 3. I look forward to sharing more behind-the-scenes details with you soon. Stay tuned!
Do you have questions?
Do you agree / disagree / have your own questions? Use the comments below to share what's on your mind. I'd love to hear from you.