There's a TriFilm quarterly social tomorrow! I'm really looking forward to it.
The summer social will be in Raleigh, N.C., on Thursday, June 22nd, from 5:30 – 7:30 PM. You can get all of the details, including tickets to attend, on the TriFilm blog: trifilmsociety.com/summer-social-registration. Membership registration is open, too, so you can join and then attend the social for free as an official member of the TriFilm Society.
Or you can register for tickets directly here: https://trifilmsummersocial.eventbrite.com.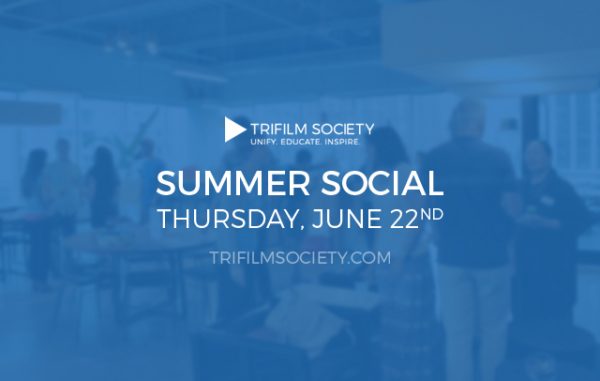 TriFilm Society quarterly socials happen once per season in the spring, summer, winter, and fall. So this is our summer social. The next one will be in the fall.
Since 2009, I've been organizing these socials as a way to connect the film and video makers in the Triangle with people who want to meet them.
The motto back then was to "drink and talk shop" and then collaborate. I've seen handshakes turn into long lasting, trusted relationships that led to paid jobs and award-winning work. It's always an honor and a pleasure when people tell me how much TriFilm has helped them.
A lot has changed since 2009. But the same attitude / atmosphere exists.
The socials are professional networking events for film and video makers (and people that want to connect with them). Attendees look for like-minded people, resources, and opportunities at the socials. These events (and TriFilm membership) are open to everyone, whether a beginner or a seasoned pro.
Collaboration with local organizations, artists, and individuals is really important to me, so I do that with TriFilm socials whenever possible. Over the years, I've collaborated with a lot of great people – and I am so grateful for it. Read more about TriFilm collaborations here: trifilmsociety.com/collaborate.
For the 2017 Summer Social, we're collaborating with the Black on Black Project. We'll have guest speakers talk about projects happening in our community, and how filmmakers can find financial support for their own work.
It's an honor to partner with the Black on Black Project for the summer social. I have been following along for a while, feeling really inspired and hopeful because of it, and I've really enjoyed what they're doing. Get more info about it at blackonblackproject.com.
Why do I host these events?
There's a lot of personal satisfaction in helping my fellow filmmakers and the film/video community. It's in my nature to champion the projects others are working on. And, I personally believe that when one of us succeeds, we all do.
Beyond that, this is a foundational part of my vision for the future of film in North Carolina.
I see a very bright future for film in my home state, both on a local/independent and a major studio production levels. (If you're new to those terms, they're very different types of creation. We can elaborate on that another day, if you're curious about it.) I want to do whatever I can to keep the creativity, talent, and resources available in this state for a variety of reasons.
But the biggest reason?
Events like this are needed.
I've seen so many great things born out of TriFilm socials: paying jobs, award-winning work, finding inspiration, leaving feeling re-energized, and long lasting relationships.
Filmmaking is a collaborative art / business. To make really great movies, share them with audiences, and find the financial support to continue creating, a filmmaker needs lots of resources. It's the only way to level up, hone your craft, and keep growing as a storyteller.
These socials have been an important part of the last 10 years of my life, making movies and helping others figure out how to succeed.
Join us!
If you're a film and video maker, or want to connect with one, I hope you'll join us!
Again, all the info you need is available at trifilmsociety.com, specifically on the blog.
See you soon.