A lot has changed for me in the past few years.
One of the biggest changes is my money mindset.
I used to think that being an independent filmmaker dictated that I had to be a starving artist. This idea was confirmed by fellow filmmakers, articles in the media, and panel discussions at film festivals. It was a negative notion that made me feel frustrated, unsupported, and pretty depressed about my future.
Things changed in 2014, thankfully, when I began enrolling in a number of different workshops, courses, and programs.
What changed?
I invested in my own education.
I began seeking solutions and discovering a healthier way forward. I was convinced that future didn't have to be so bleak. I knew that I could find a way to make things work.
Now the way I plan my day, enjoy my life, and run my business have dramatically improved. I'm happier, calmer, and more present in each moment. Now I'm doing what I love and have time to spend with loved ones. To be fair, I've still got plenty of work left to do; I don't pretend to have it all figured out. I'm a work in progress like everyone else.
Those massive changes I've experienced are thanks, in part, to a program I went through called the Money Bootcamp.
The Money Bootcamp been pretty life-altering for me. You've heard me reference it often in person and here on the blog. I'm fascinated by money stories and how much power they have over us. When we break free from those things, there are possibilities and opportunities that feel amazing.
That's why I'm sharing this with you now.
The Money Bootcamp made a world of difference for me, and I want you to feel that sense of empowerment. It's not for the faint of heart but it's incredibly powerful stuff.
Let's start with the free workshop, eh?
Free Money Mindset Workshop
If you're interested in the Money Bootcamp, I highly recommend testing out the FREE Money Mindset Workshop right now. It's all run by Denise Duffield-Thomas. She's an author, coach, and money mindset mentor.
The free workshop is a great place to start because, obviously, it's free.
But there are some  even bigger reasons to start there.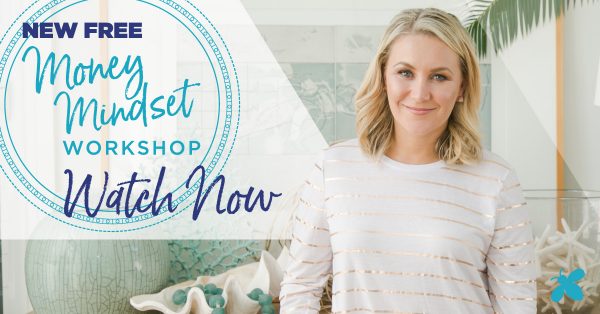 It's a great way to test the waters to see if you like Denise's style, tone, and message.
You can gauge whether or not you enjoy online learning. (Some people prefer a classroom or face-to-face settings instead.)
And, finally, you can see if you're ready to jump into this subject. (Timing is everything.)
The first video in the workshop comes with a free e-book. It's full of helpful info, action steps, and space for you to work through some of the ideas shared in the video. (I've already been through it and found new insights I'm applying in my life right now.)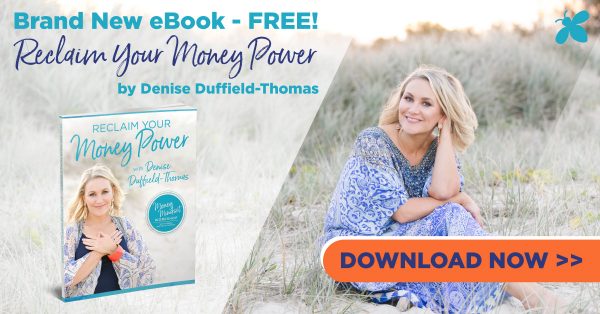 The FREE Money Mindset Workshop is a great way to test things if you're curious about improving your life by working through your money mindset.
I'm going through the Money Mindset Workshop with you because every time I hear Denise speak, I pick up something new.
The Money Bootcamp LIVE
The Money Bootcamp is an in-depth program.
Registration will open for the LIVE version soon. I'm totally stoked about it. I plan to go through the program again, alongside about 4,000 other entrepreneurs (most of whom are females). I've been through it a few times and always pick up something new.
I'll go into more details about the Money Bootcamp in another post, but feel free to ask questions in the comments!
Full Disclosure: This blog post contains affiliate links. I'm a proud affiliate of Denise Duffield-Thomas's books and programs, however, I only recommend things I've tried myself, believe in 100%, and think will benefit you. It goes against my nature to put rubbish recommendations out into the world. If you chose to make a purchase from an affiliate link, I'll receive a commission which goes towards keeping this thing operational. It's most appreciated.