Last weekend we attended our first NHL game as a family!
My husband Derek and I have anticipated the occasion since we found out a little girl was on the way. In fact, we bought her very first jersey the day before she was born. (The doctor told me to walk a lot to help labor progress. So, yeah, I was technically in labor at the arena when we bought that jersey.)
When we planned to take her to a Canes game for the first time, I got a little anxious about it. What if, what if, what if?! We all handled it really well, though.
Here are a few things that might help my fellow first-timers.
Pack light
Leave most of your emergency baby stuff at home when you're going to the game. Yeah, I know it's there to help put you at ease. But you really won't have room for a big diaper bag. Edit it down to the bare essentials. You'll be so glad you did.
You know? I wish I'd left half of the stuff at home so learn from my mistake. We brought as little as possible and it was still too much:
too cumbersome to carry through the hallways
too big to tuck under the chairs during the game
too heavy to keep on my shoulder during intermission
Pack as little as possible.
Prepare for Parking
It currently costs $20 to park your car at the arena during a Carolina Hurricanes game. (I'm told that's less expensive than other arenas. But that seems exorbitant to me.) Be prepared to pay for parking when you arrive.
Traffic moves relatively quickly when you're arriving. Most lanes are in-bound, so follow the people directing traffic and other cars to keep things moving.
Plan on a longer wait when you're leaving the game if you stay until the end. It took us a long time to get out of the parking lot. With a little kid crying in the backseat, every minute you're waiting in traffic can feel like an eternity.
Visit the PNC Arena parking guide for more info.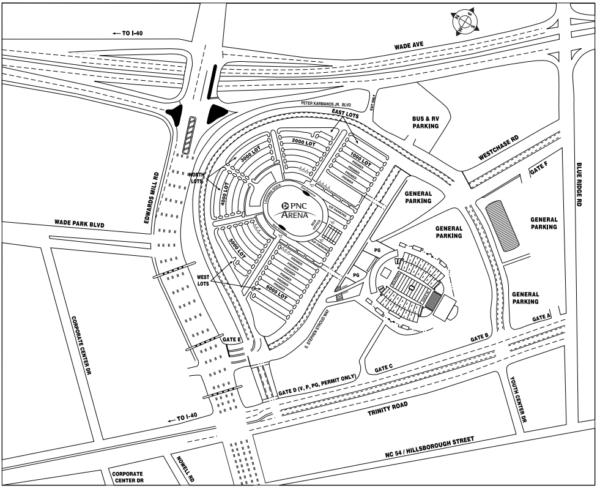 Get kid-friendly apps
You probably already have a few kid-friendly apps on your phone. If you don't download them before you leave home. (Home is where the wifi connects automatically, right?) Fully charge your device while you're at it, too.
Our daughter seemed on edge a little bit during the first part of the game. I think she was hungry and anxious because of the noise. We turned on one of the baby-friendly games (a balloon popping app) on mute, and she seemed to calm down a lot.
Some kids have short attention spans and sitting still for a whole period can be challenging. I was so glad we had that app to keep her happy.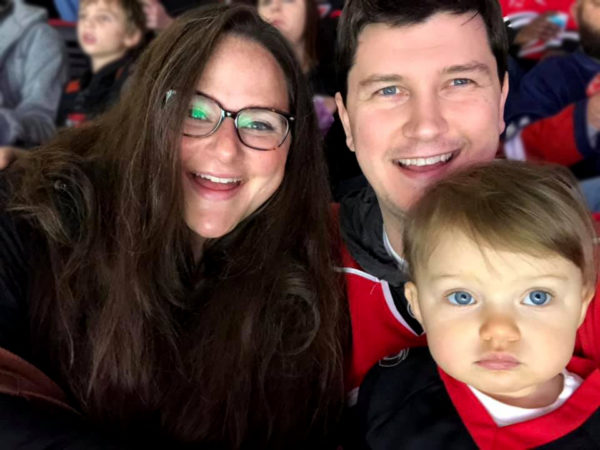 Plan around nap time
When you're planning to attend a game as a family, work around nap time. You can arrive late, leave early, etc. Do what you need to do to keep the harmony. (The consequences to messing with nap times are too great for us right now.)
We picked a Sunday noon game, with the thought it might be best for nap time. Our girl woke up right before the game so we missed puck drop. That also meant she was also hungry when we arrived. But she felt a little better with a full tummy, and warmed up to the whole experience by the time we left.
When you're attending with the littles, don't feel pressure to get there early or stay for the whole thing.
Walk during intermissions
Walking around the concourse during intermissions will help keep the kids entertained and burn off some energy.
Our friends having been doing this for years and it's a brilliant move. Our daughter loved it. There are so many things to explore, people to see, and smells to enjoy.
Tips of your own?
We're obviously new parents attending our first Carolina Hurricanes game as a family. If you've got suggestions or tips, use the comments to share! I would love to hear from you.