Last year, I had an epiphany.
It happened while I was working on Oh Crappy Day. In between takes, I asked the director to snap a quick pic of me holding the camera. I was serving as the first assistant director (1st AD), not the director of photography (DP). They're very different roles, skill sets, and responsibilities.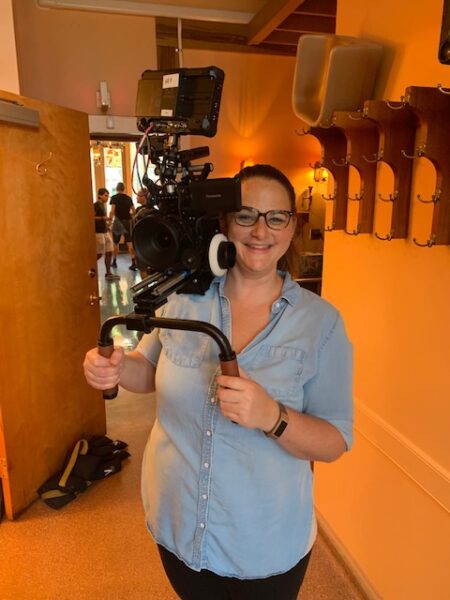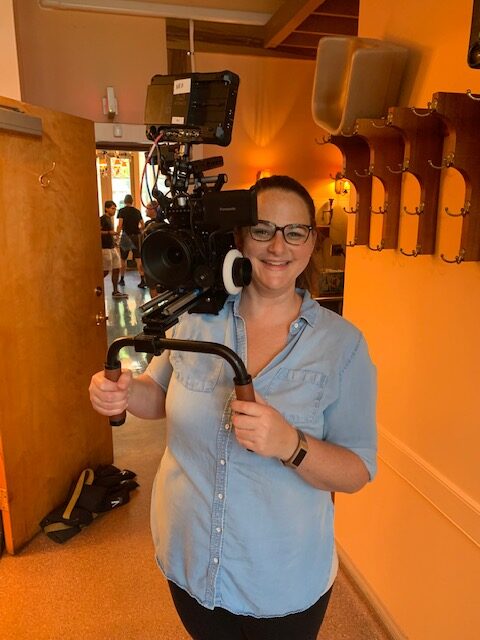 What hit me hard? I was so insanely happy holding the camera, even for those few minutes – just to have my photo taken. That's when it finally dawned on me: I have always loved the camera!
Even as a little girl, I was directing movies. Sure, they were reenactments of soap operas filmed in our backyard with friends. But, dude, I had a camera in my hand and I was directing before age 12.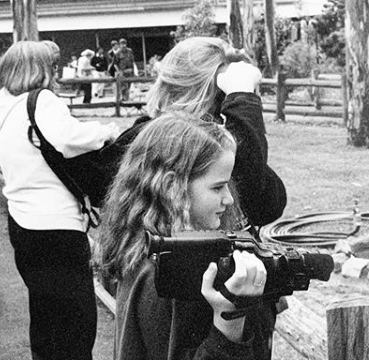 For years I had spent so much time learning everything else about filmmaking that I had ignored my first love: the camera. What's wrong with me? How can I fix this in 2020?
Log More Hours
My solution: log more hours holding the camera.
Since I own a DSLR and a smartphone, those are the two cameras I'm going to work with the most. I have a short list of dreamy, more expensive cameras. But I'm working with what I've got right now to work on developing my cinematography skills.
In the last few weeks, I shot and edited a new short video to promote something I've been working on for years. (It'll launch this month. If you're not on my email list, sign up here so you'll hear about it first.) It was SUPER freeing to shoot and edit something with such a short turnaround.
Most of my films take years to plan, shoot, edit, and distribute. The short turnaround was insanely refreshing. It has made me feel so creative and alive. I want more of that in 2020!
That why I bought myself a shoulder rig.
My New Shoulder Rig
My big goal for this new year is to spend more time behind the camera. So I bought myself a shoulder rig to use my DSLR more often. My DSLR is great on a tripod but not that great for handheld moving shots, which is why this rig will help a lot.
The rig I bought is from Neewer and it's listed around $150 on Amazon.
I did a fair amount of research before I bought the rig. Everything that I could rent locally is for bigger, pricier cameras. I found a lot of videos about building your own DSLR shoulder rigs, which were pretty decent. But I wanted something cost effective and available quickly so I can get going. That's why I picked this one.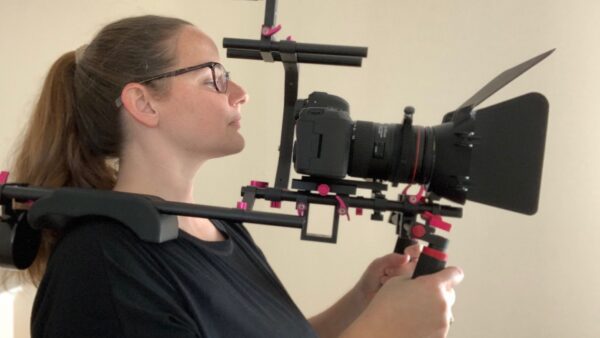 What do I think of it?
So far, so good.
My biggest complaint is that the color is listed as red – and it's definitely hot pink. Dude, now I've gotta show up with a hot pink rig? GROAN. C'mon. That's like buying hot pink power tools or weapons. Can you hear the eye roll from where you are right now? (I'm not sure if I should send it back, leave a review, or reach out to them about it. Stay tuned.)
I look forward to filming more stuff this year, especially with the new rig.
Want more info?
Would you read a more in-depth review of the shoulder rig I bought? If so, comment below. Be sure to ask any questions you have about it, so I can address them.
This post contains affiliate links so if you purchase something, I may receive a small commission which I'll use to keep this blog filled with helpful info for you.