You know I love to read. Last year, I soaked up some helpful info via business books. I'm here to recommend them to you, in case you're looking for something good to read in 2020.
Everything Is Figureoutable
by Marie Forleo
Released in 2019, Marie Forleo's book Everything is Figureoutable is a fantastic introduction to a woman I've been admiring for years. To me, Maris Forleo is a classy, fun, smart, a marketing boss.
She really saved my peach after I hit rock bottom in 2013, when I signed up for her online program called B-School. Seriously. B-School changed everything for me. (You'll hear more about this in the coming weeks, since I'm a proud affiliate.)
If you have big dreams about "creating a life you love" and you're not sure how to bring that stuff to life, then this book is for you. It will help you get results, my friend.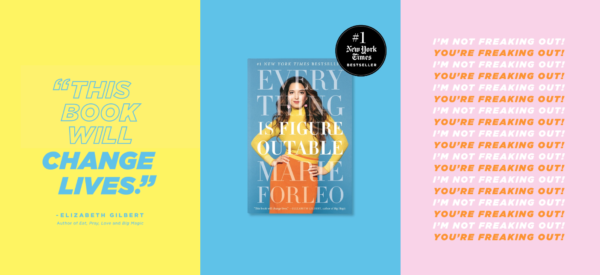 Chillpreneur
by Denise Duffield-Thomas
There are a lot of business books by dudes who use the word hustle entirely too many times. This is not one of those books. And I'm so glad.
Chillpreneur is by Denise Duffield-Thomas, creator of the money bootcamp that has wildly improved my relationship with money – especially as an entrepreneur.
This is the book for you if you're looking for a guidance on how to build a business that plays to your strengths and fits within the kind of life you want to lead. It will also help you take a close look at your relationship with money so you can make / keep more of it in 2020. But if you're looking for someone to tell you to work more hours, hustle harder, and crush it in the new year then keep moving.
Money can come to you with ease. Denise can show you how. And it's not as scary as you might think; it's totally rewarding.
Boss Up!
by Lindsay Teague Moreno
Every now and then I escape to a book store to browse through what's new and interesting. While reading the intro to this book on the floor of the store, I totally teared up. I felt like someone was finally talking to me.
What I love about Boss Up! is the honesty about running a business as a mama: nothing's picture perfect.
With so many curated, polished feeds coming at us (commercials, print ads, social media, etc.), it feels like this book is a welcomed reprieve. The expectations for mamas and female entrepreneurs (whether self-imposed or otherwise) are totally unattainable, and this book makes me feel so much more normal and understood.
But it's also incredibly helpful as a business owner. Some of the info is not new to me, but that's wonderful because it's written in a way that helps me revisit a lesson I need to hear in a new way. It is really a beautiful thing.
BONUS: Big Magic
by Elizabeth Gilbert
Most of these books were released in 2019, so here's a bonus book that was published a few years ago and is still something I reference on the regular.
Big Magic by Elizabeth Gilbert is one of the best books about leading a creative life that I've found in a long time. It's a book that I have revisited countless times, especially when I'm feeling stuck like I have in the past few years (related blog post).
She talked about our relationship with creativity, fear, and doing the things that bring us joy. It's an incredible book. Nothing I write here will do it justice.
My copy of the book is actually falling apart because I've read it so many times. I highly recommend you get a copy for yourself. And read it as many times as you need.
What about you?
What books are you reading in 2020? I would love to hear from you in the comments. I am always looking out for good books to read! (Even if I'm "reading" them while listening in the car to cart my daughter around.) Share them if you've got great recommendations!