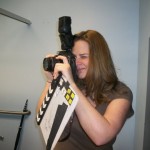 Hey, y'all! I'm Camden, an independent film producer and director. Making films feeds my soul.
Filmmaking is a challenging collaborative art form that makes me feel like I'm going mad some days. But it makes me so happy, I can hardly stand it. Writing about filmmaking helps me understand and appreciate it more. I do that on my blog often.
This is my promise to you, my friends: I'll keep doing the best work that I can. I'll try to be as genuine, down-to-earth, and honest as possible. And I'll continue seeking opportunities to tell brave, honest stories that make this life a little more enjoyable for all of us.
There's no telling what the future holds. I can't wait to share more details about what is taking shape. This is where I'll make announcements when the time comes, so stay tuned.
Stick around. Talk to me. And come back soon, ya hear?
Statement About My Work
My goal as a filmmaker is to make great, unforgettable cinematic experiences that inspire and engage audiences. (Translation: you'll love my films and want to tell your friends about them.) I want to enrich the lives of people who watch my films by letting them laugh, cry, or think differently about the world and how they fit into it. My favorite films certainly did that for me. By doing that I hope — with fragile optimism — that I'm helping make the world a better place for all of us one tiny step at a time.