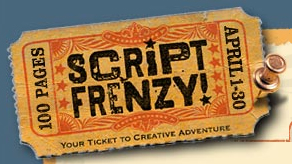 Next month I'm participating in the Script Frenzy challenge to write 100 pages of original scripted material in the 30 days of April.
I might be crazy.
The list of reasons to not participate is long, but I've had script ideas floating around in my head for years. It's time to get at least one script on paper–even if it is never read by another person.
I find myself in uncharted territory on professional and personal fronts. It's exciting but unnerving, so I want something familiar and safe. This is what writing is to me–like being with a loved one I can trust. He won't judge me. He won't tell my secrets. He listens really well. He's tender or tough, depending on what I need most.
I need a means to reflect on the past few years, take stock of where I am presently, think about the challenges faced while working on Abandoned Allies, and appreciate all of the lessons I learned. This endeavor should be very therapeutic.
The next month will be an interesting time, and I look forward to the new adventure.