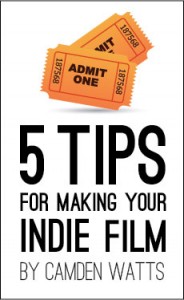 Having just finished my first film, I realize now that I should've done things differently. I keep thinking about how to make the next film better and more efficiently. So here are some tips for making your indie film. Enjoy!
5. Start with a budget.
Budgeted resources are much more than financials. They are time, people, places, things, and ease of access to what's needed to make the film. Take stock of what is available, and be realistic in making your budget. Then stick to it, and don't allow scope creep.
4. Follow the K.I.S.S. rule.
Always keep it simple, stupid (KISS). Start with a painfully simple concept and means to make the film. It'll find a way to get complicated on its own.
3. Shoot only what is needed.
Shooting too much footage means time wasted. Time wasted means money wasted. Save on both–and protect your sanity in the process–by shooting only what is absolutely needed.
2. Get it finished and out the door.
Don't take forever tweaking one project. Get it finished and out the door quickly so people can enjoy it. Quantity doesn't equal quality, but you'll learn a lot on each project. Paying attention, learn lessons, and improve as you go.
1. Improve collaboration through better communication.
Communicate effectively with everyone helping you make the film. It's tough but find a way to do it, and get someone to help you if needed. People like to stay in the loop, especially about your indie film efforts. It's a good thing.
Got tips of your own? Feel free to share them in the comments.