Last night we enjoyed a screening of Brewconomy during First Friday Raleigh at the N.C. Museum of History.
Huge thanks to all of the folks who attended and helped organize such a fun evening!
The #NCBeer panel speaking following the screening of @Brewconomy @NCmuseumhistory. pic.twitter.com/IOItGcsAqy

— NCBeerGuys (@Ncbeerguys) November 7, 2015
We designed Brewconomy to be paired with samples and conversations, so last night was pretty ideal. I'm so thankful to the N.C. Museum of History for organizing it, and all of the folks that were there to participate. Get a list of all the breweries that provided samples and the panelists on the museum's site here.  
There were so many things I appreciated about the evening. Not only the chance to show the film, but to see a lot of my beer friends. It's tough to describe because I have such respect for these folks and the work they're doing. If I could hang out with them all day I would.
In fact, I make that joke a lot.
I dream of a day that someone comes to me with a big check and says, "Here, use this to take a film crew and drink your way across the state to tell more of the NC craft beer story."
I make it a joke because it's highly unlikely that something like that would ever happen. (That being said, if you know someone who is ready and willing to cut me that check please contact me immediately.)
There's truly so much more to explore about NC craft beer, and I genuinely wish I had the resources to do it. Brewconomy skims the surface of the story, and it's short on purpose so you can talk about what's happening after the credits roll.
Speaking of credits…
It was fun to hear that a Brewconomy Kickstarter backer enjoyed seeing her name on the big screen at the end of the movie! End credits are a huge deal to me, and I always opt to let the entire thing play when given the chance.
The movie doesn't exist without every single one of the people in the end credits. I'm so grateful to each person listed for supporting us.
Last night, it was also a treat to hear that the talk I gave at the Meredith College Friends of the Library fall dinner recently was so well received. I heard that the talk had stirred some conversations and made people happy. I've also gotten some follow up emails, which are truly exciting. It's nerve-wracking to be so brutally honest while sharing your own story. So vulnerable! Glad it was a hit.
Did you miss the screening last night? Want to see the movie again for the first time?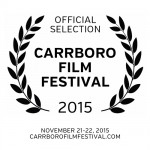 Watch Brewconomy at the Carrboro Film Festival on Saturday, November 21st, during the noon block of films. Tickets to the fest are quite affordable. Get more information at carrborofilmfestival.com.
If you enjoyed the film, please tell your friends and family about it!
Sign up for free monthly emails updates from yours truly, too. I work hard to make sure they're relevant and inspirational so you look forward to hearing from me each month.
Thank you all!