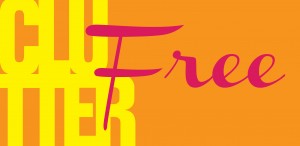 Right now, there are ares in my life that are unsettled. There are a lot of unknowns, things I can't control, and seriously huge changes. So I've turned to clearing clutter and trying to live a clutter-free life. It's a challenge, and something that provides immediate results. It's my therapy.
In recent weeks, I've made (what I would consider) big improvements in my house. My roommate might secretly hate me for constantly moving our stuff around. I hope she doesn't curse my name for this annoying habit of mine. She said she likes the living room much better, so that's good.
The living room is much different. The layout makes the room feel more spacious, comfortable, and relaxing. Things are taking shape in the kitchen as well. I took out a shelving unit and replaced it with a smaller shelf. It now openly displays useful things, instead of hiding crap behind closed doors. I've done some small things in the office, too, like swap out the book shelf for a smaller one. It's not as tall and is a lighter color, so it makes the room feel bigger. You know, little things that make a big difference. OK, the office is still full of crap. I need to relocate stuff: keep, donate, or trash/recycle?
There are entirely too many books in the office. I've always wanted a big library with a ladder on wheels, where I could hang off of it in a pretty dress and sing loudly. My books, library, and pretty dress. Oh, yeah, there's an ambiguously straight dude who dances and sings with me as well. (Was that a Disney-developed fantasy? You think kids in other countries dream of such nonsense?)
Since I don't have that library, I'm trying to get rid of some books I never read. I've already shared a few with my coworker, who looked genuinely excited about them. Yay! Even though the office is a hot mess, it has a lot of potential.
I can't wait to get each room in order so I'll be more likely to spend time there. Same for the garage. It's full of things I inherited after my grandmother passed away. We cleaned out her house from January to March, and a lot of stuff came to my house so I could go through it. There's a lot to process: keep, trash / recycle, or donate?
Going through the things my grandmother and grandfather owned was scary at first. I still cry while going through it. I miss them so much it hurts. But it's also a little therapeutic. I now enjoy going through the stuff and finding it a new home. Like the shelving unit that was always in their living room, which was built out of driftwood by my dad. It now has a home in my living room. Same for the globe that always sat on top of it. Little things like that make me happy on a daily basis when I see them.
It's nice to develop new habits, like trying to live a clutter-free life, for reals. Clearing the clutter and having an organized / efficient home is rewarding. There are no closets, drawers, or cabinets full of crap you have to hunt through to get to the thing you wanted. Bonus: a home that has less crap in it is hella easier to clean. Fewer things owned equates to fewer things to clean up. I like that.
Other folks have had the same epiphany: less clutter means a more efficient, affordable, and enjoyable home. There are a lot of sites and books to help, if you're motivated to live a clutter-free life. I've been soaking them in, and can't get enough. It's really helpful to read what others are doing. Makes me feel a lot less neurotic.