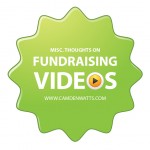 I've been reading and researching crowd funding a lot lately. Recently I posted a few thoughts on fundraising trailers. I've been scouring the internet to watch videos, contribute to campaigns, and think about what I would do, you know, if I were to start a campaign any time soon. It's fun to day-dream about it. Here's some stuff I've found that you might enjoy.
I've been reading Trailer Mechanics: A Guide to Making Your Documentary Fundraising Trailer by Fernanda Rossi. The book has been pretty helpful. I plan to write more about it after I spend more time reading it. So far, so good.
A friend recently sent me a link to an article from Fast Co. (one of my fave publications) titled "How to Make a Kickass Kickstarter Video" which is pretty awesome. I love articles like this that are short, to the point, and helpful. They outline a few tips and elaborate a little on each one:
Be genuine

Find some help and pay attention to the details
Engage quickly
Don't miss your chance to impress
Sheri Chandler, a digital marketing strategist, has a few thoughts on crowd funding. She recently posted "Successful crowdfunding means personal connection" on her site. Her conclusion? It's not for everyone, especially the folks who are still figuring out how to connect with an audience online. [Side note: she shares a lot of helpful information for indie filmmakers, so you should totally follow her: @sherichandler, www.sherichandler.com.]
On the PBS / POV blog I found "Kickstarter Campaign Secrets from Record-Breaking Documentary Director Jennifer Fox" which was originally posted January 5, 2012, but it's still relevant today. They raised $150k, which was a record-setting amount at that time. [Since then, the Veronica Mars campaign has set a new all-time high for crowd funding (more than $4 million with a few days to go), but I've already written about that campaign.] Listen to Jennifer Fox talk about crowd funding below or on the PBS / POV blog.
You can also get information straight from Kickstarter and Indiegogo, two of the most recognized / reputable crowd funding sites. Visit the Kickstarter School to learn more about how to make your project successful. There are eight different sections about stuff like defining your project, making a video, and rewards fulfillment.
A friend of mine recently sent me the Indiegogo Crowdfunding Field Guide, a 22-page PDF to help you make the most of your experience on the site. (Thank you, Brian Crawford, for the link.) I've also recently learned about the Indiegogo live webinars. Pretty excited about that, not gonna lie.
So, why am I sharing these resources with you? I feel like crowd funding is an interesting and exciting world to explore — just like social media, technology, and indie filmmaking. Crowd funding online is still relatively uncharted territory, so it's more fun to explore it with friends, which I've mentioned previously. It's just fascinating stuff, and I think others are trying to figure it out as well. I hope that these resources will help.
Bonus: check out Portlandia's take on the Kickstarter experience. It's pretty funny.