It's always a pleasure to hear from readers!
I've been blogging about filmmaking for 10 years and, seriously, hearing from people who found helpful info here is really fun. That's why I encourage your comments, tweets, and questions!
Today I have a few questions from a fellow filmmaker, Zak, who's presently navigating the waters of documentary film.
He asked to pick my brain in person – a comment request from folks these days, which is increasingly tough to accommodate – but I thought y'all may have some similar questions. So I asked if we could share our conversation publicly here on the blog.
Let's go!
---
Who do you think are the most important people to know when promoting a documentary?
There are a lot of people who help make and share movies.
Maintaining and building those long-lasting relationships are a high priority for me. I sincerely hope to build authentic relationships that are mutually beneficial every step of the way.
That being said, in relation to promoting a film, I think it's incredibly satisfying to build a long-lasting relationship with my audiences. There will be different target audiences for each movie I make, of course, but I hope to have a core audience that's always eager to see what I do next. I'm constantly thinking about how I can cater to those people and make them feel special because I appreciate their support and encouragement so much.
The more resources I have on upcoming films, the more fun stuff I can do for our audiences. I daydream about this kind of thing!
Understanding your target audience on an intimate level is really helpful when the time comes to share your finished film.
How do you get screening locations?
I've self-distributed each film I've made.
It's a lot of hard work; I won't sugar coat it.
But it's possible to find venues and work with them to screen your film. I don't self-distribute alone, either; there are a lot of people that help with this process and I'm so grateful for their support. It's a collaborative effort with a lot of different people.
We've screened films at festivals, theaters, churches, colleges, universities, and businesses. The screenings are very strategic, so that we know the film is a solid fit for audiences and our collaborative partners. I work hard to make sure it's a success for everyone involved.
Also, I also try to make sure each screening fits my requirement of "practicing what I preach" in the film. For example, when we screened Brewconomy concessions sold out of North Carolina craft beer at almost all of the events we organized. We also had a lot of demand for the movie, and it was tough to keep up with all of the screening requests.
I'm so happy that the screenings did a lot of good for local businesses! It's exactly what I envisioned when we started making the movie.
It's also incredibly satisfying to screen a movie followed by panel discussions, where the conversations can continue. Seeing the reactions from people is really rewarding after working on a film for so long.
Panel discussions also allow audiences to dive a little deeper after a screening, since only so much can be covered on screen. Plus, documentaries are a certain point in time but real life keeps going. So, to me, sharing the opportunity to hear from subject matter experts who live and work in a field is really helpful for audiences who want to keep learning.
How long did you actively promote your documentary?
There are different phases of promotion for each film.
While making a movie, I usually share a lot of behind-the-scenes information with supporters via email. People on my email list get the most intimate updates. Sign up here to go behind-the-scenes: camdenwatts.com/email-updates. I also share details on the blog and social media.
While a film is in the screening phase, I make sure our audiences have details on where to see the film and how to share it with friends. There are a lot of things that happen during this phase, and it can be a lot to manage. I've been lucky to have a lot of help here, too.
There are also distribution / promotional efforts such as creating media kits, trailers, sound bites, etc. I spend a bit of time doing interviews with media whenever possible, too.
When the theatrical distribution phase slows, there are a lot other things to communicate: streaming, sharing the film, etc.
A film goes into your portfolio and, hopefully, you get to keep sharing it for the rest of your career.
For example, if you want to see my very first film, Abaondoned Allies, you can rent it here: https://vimeo.com/ondemand/allies. Funds received from those rentals go directly back into the making and sharing my films.
There are a lot of phases of promoting a film, and it's a lot of hard work. But it can be a ton of fun, too!
What budget did you have?
Every film I've made has been a shoestring budget, grassroots effort.
I've self-funded each one, while simultaneously teaching myself how to make and self-distribute movies. (I figured it was more cost-effective than moving to L.A. and going to film school, no matter how badly I wanted to take that path.)
We did a crowdfunding campaign with Brewconomy and were lucky to exceed our goal. The campaign raised a little more than $11,000, which covered a small portion of our expenses. I'm so grateful to all of our backers for making it possible!
For years, I've been working hard to better understand where to raise funds for upcoming films, including applying for grants and working with investors.
Grants incredibly competitive but there's one certainty: you won't get a grant if you don't apply for it!
I'm in the midst of raising funds for my next film, Good Thing, which is a feature-length documentary about Shannon Johnstone, the photographer behind Landfill Dogs. I introduced the film on a blog post recently, which you'll find here.
Did you do any publicity outside of North Carolina, as your latest documentary was very N.C.-focused?
Yes, we did.
My goal is to make hyper-local movies with universal appeal.
I love telling stories about the South, since that's where I was born and raised. But I've also been lucky to travel a lot, so I want to share Southern stories that inspire and encourage people worldwide. My hope is that my work has even the smallest positive effect in making our world a better place.
Brewconomy and Abandoned Allies were covered by the media nationally and internationally, respectively. My other two finished films are not features, so they did not have the same promotion and distribution strategy. Learn more about my films here: camdenwatts.com/films.
Craft beer is becoming really popular nationwide, and people are curious about what's happening here in North Carolina. I was lucky to talk to people outside of North Carolina about the growth of craft beer, and it's been really fascinating. I miss those conversations, now that we're not screening Brewconomy theatrically now.
What do you consider a success in documentary filmmaking?
Success is relative.
Everyone has their own opinion about what constitutes success – in every part of life.
I think the most important thing is figuring out how you define success. What makes you happy every day? Why are you making your film? Who do you want to watch it? What do you hope to accomplish?
Making movies is a monumental effort. It can take a lot of time, money, and energy. If you're in it for the fame and fortune, for example, there are a lot of easier paths you can take. Haha.
Success in documentary filmmaking, for me, is making movies that I'm proud to put my name on. It means working with the best of the best (crew, talent, etc.) every step of the way, and taking the best care of my team so that they have a positive, memorable experience working on the project. It means creating a body of work that, hopefully, will make the world a better place by empowering audiences to take action. (Even seemingly small actions, like choosing to drink local craft beer from a brewery that supports its community.)
It's all relative, though. One family member still wants me to "get an internship with Ken Burns" so that I can succeed. Others won't see me as successful until I have a little golden man statue on the shelf. That's why I think it's important to figure out what you want for your life, and how filmmaking fits into that.
To delve deeper, philosophically, here's one of my favorite quotes:
To laugh often and much; To win the respect of intelligent people and the affection of children; To earn the appreciation of honest critics and endure the betrayal of false friends; To appreciate beauty, to find the best in others; To leave the world a bit better, whether by a healthy child, a garden patch, or a redeemed social condition; To know even one life has breathed easier because you have lived. This is to have succeeded. – Ralph Waldo Emerson
What kind of distributor can an indie docu-filmmaker expect to form a relationship with?
Distribution options vary.
It's important to do your research, meet with representatives of a distributor, look at the body of work they represent, and consult with an attorney before you sign away any rights to your work.
Don't expect to sign and hand off your film. There are a lot of deliverables, and it can take time and money. Also, you may continue to be involved with the marketing of your film after you've signed with a distributor. Some distributors are looking to filmmakers as strategic partners who have a relationship with and a keen understanding of their target audiences.
Seek professional legal support, and make sure you've budgeted for counsel.
Do you recommend specific festivals in the circuit for a documentary film?
There are a lot of really great film festivals.
The ones I like most have a staff and leadership that cares deeply about screening the best films, treating the artists really well, and making sure the movies are a good fit for their audiences. Attending and screening your work at a film festival is a lovely, rewarding experience.
Now I create a film festival strategy for each project. It goes into the business plan from the start but doesn't dictate creative decisions.
Things that helped me identify target film festivals include:
Reading / following the industry trades
Reading / following the film festival online (sign up for email updates, follow them on social media, etc.)
Attending festivals
Volunteering at festivals
Talking to people who have attended or screened at certain festivals
Meeting with festival programmers, organizers, etc., whenever possible to better understand their challenges
There are so many festivals. Do your research, find a good fit for your film, use your resources wisely, and be strategic about your film fest efforts.
Remember, if your film doesn't get in, it's not the end of the world. Don't take rejection personally or get too jaded. Keep making movies, applying to festivals, and honing your craft.
Also, don't overlook local fests. There are a lot of great film festivals in North Carolina, which is why I put together a spreadsheet for the TriFilm Society. You can download the spreadsheet for free here.
The TriFilm Society is an organization I started in 2009 to support my fellow filmmakers, mainly by organizing networking events called socials. We've grown and changed a lot since then. I'm really excited about the growth of TriFilm in the coming years.
Learn more at trifilmsociety.com.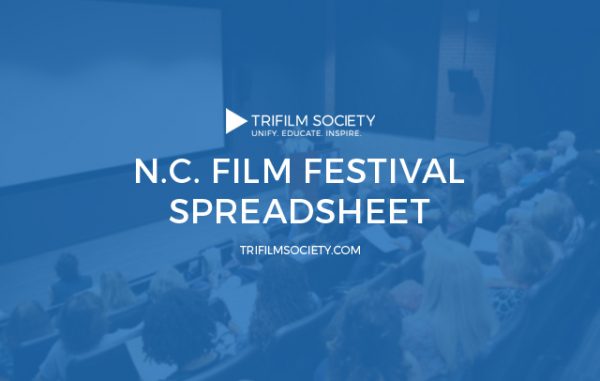 Want to keep reading?
If you enjoyed some of these questions and answers, you might also like these posts:
Feedback
What do you think? I'd love to hear from you.
Use the comments below to tell me what's on your mind.
Follow and talk to me online: Twitter, Facebook, and Instagram.